02 Feb 2023
Al-Sisi receives Mauritania's Defence Minister for official discussions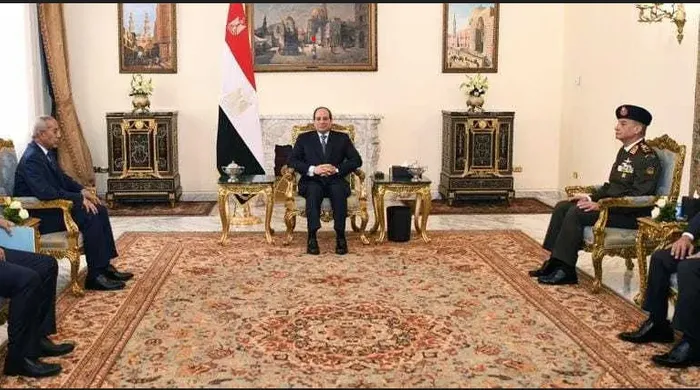 Egypt's President Abdel Fattah Al-Sisi met on Wednesday with the Minister of National Defence of the Islamic Republic of Mauritania, Hanena Ould Sidi, who is currently on an official visit to Egypt.
The meeting was also attended by the Minister of Defence and Military Production, General Mohamed Zaki and Mauritania's Ambassador in Cairo.
According to the Spokesperson for the presidency, Ahmed Fahmy, the meeting comes within the framework of enhancing the firm fraternal relations between Egypt and Mauritania and reinvigorating joint cooperation in the military and security fields, particularly in light of Mauritania's role in counter-terrorism efforts in the Sahel region.
During the meeting, the Mauritanian Minister delivered a letter from the President of the Islamic Republic of Mauritania, Mohamed Ould Ghazouani to President Al-Sisi. The Mauritanian President underscored his country's commitment to strengthening the historical and brotherly relations between the two countries and to further advance them in an array of areas, particularly in military cooperation and efforts to combat terrorism.
President Al-Sisi asked for his greetings to be conveyed to President Mohamed Ould Ghazouani.
Al-Sisi also affirmed that Egypt values its relations with Mauritania, emphasizing the importance of promoting them across various levels. He also stressed Egypt's keenness on fostering closer military and security cooperation with Mauritania, particularly in the areas of training and exchanging expertise, given Egypt's leading role in this field.