17 Jul 2020
Brasil defense industry organizing to step up sales to Egypt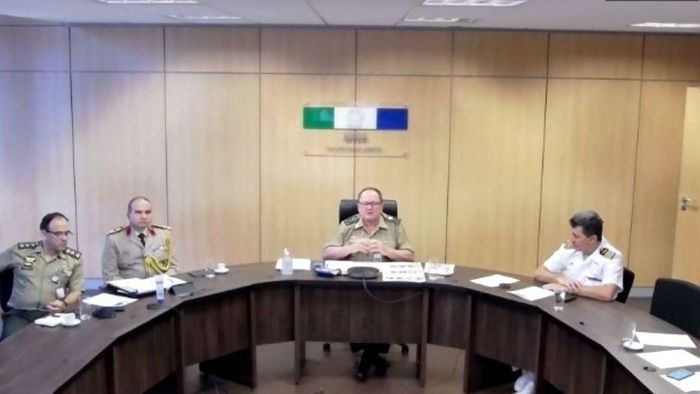 Industry organization Abimde partnered up with the Arab Chamber for a webinar on Thursday (16) to discuss Brazil's participation in an industry show next December in Cairo. The meeting was joined by Brazilian and Egyptian officials, as well as representatives from other industry groups.
São Paulo – The Brazilian defense and security industry is organizing to sell more product to Egypt. The topic was discussed by industry delegates and government officials from Egypt and Brazil during an online meeting hosted by the Brazilian Defense and Security Industries Association (Abimde) in partnership with the Arab Brazilian Chamber of Commerce (ABCC) on Thursday (16).
The event was also a lead-up to Egypt Defense Expo (EDEX), slated for December 7 to 10 in Cairo, Egypt and featuring a Brazilian stand. Abimde chair Roberto Gallo said 12 companies have decided to join in. The stand will be promoted by Abimde and the Brazilian Trade and Investment Promotion Agency (Apex-Brasil).
razilian Ministry of Defense Commercial Promotion Department director, general Luis Antônio Duizit Brito (pictured center at the top of this page), said during the meeting that Brazil is looking to enter into long-term partnerships with Egypt in the industry. "We are not looking to sell, because what gets sold gets consumed the following day. What we are looking for is partnerships," he argued. According to Brito, hopefully partnerships can be further cemented at EDEX.
ABCC Market Intelligence coordinator Marcus Pillon said that last year, defense and security imports to Arab countries amounted to USD 32.8 billion, with USD 195.2 million worth of product coming from Brazil. Egypt's imports from Brazil came out to USD 3.5 million. Egypt is the sixth biggest Arab destination for the Brazilian industry.
Brazilian Ministry of Foreign Relations Defense Products Division head Thiago Carneiro mentioned that Brazil's partnership with Egypt in the industry goes back 40 years with military aircraft manufacturing. He expressed willingness to go back to past levels. According to him, Brazil-Egypt relations in the industry has always been based on strategic partnerships.
Egypt military attaché to Brazil Alaa Mohamed Abd El Aziz said that developing and modernizing equipment are requisites to having strong Armed Forces. He discussed the Armed Forces' role of ensuring sovereignty and defending people, and went over the external threats facing his country right now.
The minister-counselor at the Embassy of Brazil in Egypt, Rubem Mendes de Oliveira, mentioned that Egypt's Armed Forces have been charged with handling logistics and distribution of essential goods and services amid the pandemic. He said that in canvassing Egypt's market, the Brazilian industry should also showcase other kinds of products.
Brazil's Defense attaché to Egypt, colonel Ricardo de Souza, told those in attendance how he can help support the defense and security industries. According to him, his work involves advertising and promoting the Brazilian industry, supplying the Defense Ministry information with information regarding demand in Egypt, and assisting Brazilians in joining events and exhibitions, among other things.
General Elias Rodrigues Martins Filho, the Government Relations coordinator at Apex-Brasil, said defense has always been a strategic industry for Brazil. He discussed an ongoing international defense and security industry promotion project from Abimde and Apex-Brasil. According to him, over 90 Brazilian enterprises are involved.
The meeting was also joined by representatives of three other institutions: the Brazilian Machinery and Equipment Industry Association (Abimaq) Defense Council chair Roberto Veiga; the Brazilian Chemical Industry Association (Abiquim) technical director for Economics and Statistics, Fátima Giovanna Coviello Ferreira; and Brazilian Hospital and Dental Equipment Industry Association (Abimo) superintendent Paulo Fraccaro.

Source