03 Nov 2023
China's growing maritime presence in Egypt's ports and the Suez Canal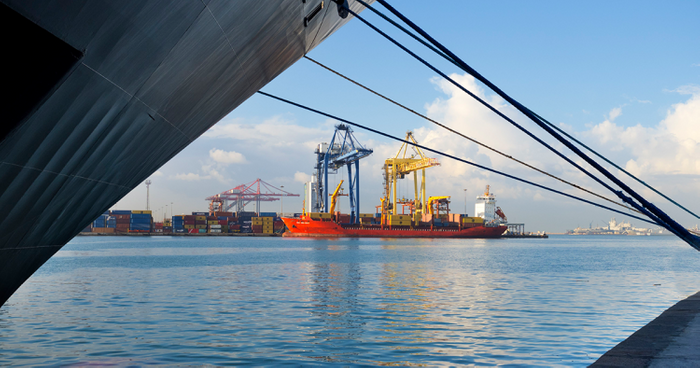 In recent years, China's presence in Egypt's strategic ports has grown noticeably. This includes the involvement of both private and state-owned Chinese companies in the partial acquisition, development, and operation of Egyptian seaports and terminals, with concessions of up to 38 years.
In addition to a Chinese state-owned company holding stakes in two ports at the northern and southern entrances of the Suez Canal, a private Chinese firm also operates two strategic ports on Egypt's Mediterranean coast and is developing and will eventually operate a third at Abu Qir Naval Base. This coincides with significant Chinese investments in the Suez Canal Economic Zone, a 455-sq-km special economic zone located along a maritime corridor of vital importance to global trade. While China's role in Egyptian ports reflects Beijing's growing ambitions in the region, the opacity of the Sino-Egyptian agreements and the blurry lines between China's commercial ports and its military aspirations raise questions about the potential implications.
Egypt's plan to be a maritime hub
Since coming to power in 2014, Egyptian President Abdel-Fattah el-Sisi has reshaped Cairo's international relationships. Egypt, which has maintained a strategic partnership with the U.S. since the 1970s, initiated a calculated rapprochement toward U.S. adversaries like Russia and China. The strength of burgeoning Egyptian-Chinese ties has manifested in President Sisi's multiple visits to China, the signing of numerous bilateral agreements, a sharp 317% increase in Chinese investments in the country from 2017 to 2022, and a rise in loans that has made China Egypt's fourth-largest global creditor with lending of $8 billion. Last month, Egypt and China signed a debt-swapping memorandum of understanding for development projects. For Egypt, ties with China are not only a means to diversify its global partnerships and maximize leverage in its relationship with the U.S., but they also reflect an Egyptian need for foreign direct investment (FDI) without the liberal conditionalities associated with International Monetary Fund loans and Western funding.
President Sisi has prioritized mega-projects over the past nine years, inspired by a top-down development approach. This includes a plan to upgrade Egypt's ports, which handle 90% of its foreign trade, with the aim of positioning the country as a regional logistics hub. The major overhaul of maritime infrastructure is set to be completed by 2024 and involves 80 projects with an estimated total cost of $4 billion. As a result of its inability to attract sufficient private funding, Egypt opted to carry out the construction work itself while offering the subsequent operation of the ports to foreign investors. Amid a growing domestic financial crisis, Egypt sought and successfully granted concessions to leading companies and consortiums from different countries, including China, with increasing ambitions of becoming a global maritime power.
China in Egypt's ports and the Suez Canal
China's presence in Egypt's maritime sector is multifaceted and involves private and state-owned companies looking to acquire operating concessions and purchase stakes. On the operational side, the prominent Chinese company Hutchison Ports has invested more than $1.5 billion in Egypt, forging a long-term collaboration with the Egyptian Navy to construct and manage a new container terminal within the Abu Qir Naval Base on the Mediterranean coast. This partnership comes with a 38-year concession. But Hutchison Ports' influence reaches further, encompassing the operation of two other vital ports: Alexandria and El Dekheila. Both ports are essential to Egypt's commercial activity, with Alexandria Port alone handling nearly 60% of the nation's foreign trade. In March 2023, Hutchison Ports announced a plan to establish a high-tech terminal within Ain Sokhna Port with the capacity to accommodate 1.7 million twenty-foot equivalent units.
But Hutchison is just one of several Chinese players in Egypt's port sector. Eight years ago, the Port of Damietta Authority announced that the state-owned China Harbor Engineering Company Ltd. planned to construct a container terminal at the Damietta port on the Mediterranean coast. Eighty-five percent of the necessary funding was supposed to come from the Chinese Development Bank. Although there is no evidence confirming that the plan has materialized, another Chinese state-owned company, COSCO Shipping Ports, has taken stakes in two strategic Egyptian ports: East Port Said, the largest transshipment port in the Suez Canal, ranked 10th on the World Bank's 2022 Port Performance Index, and Ain Sokhna Port, a pivotal gateway on the Red Sea connecting Egypt to the Arab Gulf and Asia. COSCO has a 20% stake in the Suez Canal Container Terminal of East Port Said Port (the northern entrance of the Suez Canal) and is now part of a joint venture to establish and manage a new terminal at Ain Sokhna Port (the southern entrance of the Suez Canal). COSCO was granted a 30-year concession and a 25% stake in Ain Sokhna's upcoming terminal. Located near that terminal is the Suez Canal Economic Zone, expanded in 2016 with significant Chinese investment. The Tianjin Economic-Technological Development Area (TEDA), another Chinese state-owned enterprise, constructed an industrial park inside the zone that accommodates more than 140 companies. In recent months, Egypt has secured investment deals with Chinese companies worth over $8 billion for the Suez Canal Economic Zone.
What's China's interest?
With a population of over 105 million and imports from China of approximately $13.2 billion in 2022, Egypt is a substantial market for Chinese companies, but its ports hold a broader significance as well. At the intersection of Africa, Europe, and Asia, Egypt bridges the Indian Ocean, the Red Sea, and the Mediterranean. Its management of the Suez Canal, a critical maritime waterway that handles 12% of global trade, further underscores its strategic importance. The canal serves as a primary route for China's westward shipments of goods, including around 60% of its exports to Europe, representing one-tenth of the Suez Canal's annual traffic, making Egypt an integral part of China's Belt and Road Initiative (BRI). In 2013, Chinese President Xi Jinping presented the BRI as a comprehensive international infrastructure development strategy encompassing diplomatic, economic, and financial aspects. The strategy comprises Chinese companies' engagement in infrastructure projects (export of services) and outward direct investment from China, primarily focusing on Eurasia and East Africa. The initiative includes a maritime route linking multiple Chinese ports, facilitating connectivity from China to Europe.
However, the importance of Egypt's ports also extends to the eastern Mediterranean. Given two recent developments, this region has taken on increasing significance for China: the February 2022 Russian invasion of Ukraine and the expansion of oil and gas exploration efforts within the area. The war in Ukraine, sanctions imposed by the West, and the blockage of the Port of Odesa all represent a challenge to China's overland and maritime supply chains. As a result, China has been compelled to foster alternative transport corridors involving eastern Mediterranean countries like Greece, Turkey, Israel, and Egypt to establish more resilient transportation options. Moreover, as the world's largest energy consumer, China's energy needs might prompt interest in the eastern Mediterranean, which is home to growing energy exploration and production, as well as liquefied natural gas (LNG) export facilities in Egypt. These advantages have attracted global players from within the EU, which signed a deal with Egypt and Israel to optimize natural gas exports to offset shortfalls from Russia. China's interest in the Mediterranean over the past decade has also been manifested in the joint naval exercises carried out by the Russian and Chinese navies in 2015 and 2017. The orchestration of these events underscores the evolving dynamics between China and the eastern Mediterranean, including Egypt, with its geostrategic significance.
Navigating concerns and opaque agreements
Without a doubt, allowing private investors to participate in the operation and upgrading of Egypt's maritime infrastructure could bring economic benefits to the country if measures are taken to avoid monopolies. The Mediterranean ports China already manages provide cause for optimism: The Port of Piraeus in Greece, operated by COSCO, saw its earnings jump from €42.33 million in 2018 to €74.67 million in 2022. With China operating some Egyptian ports alongside other global operators, Egypt could enhance its ports' capabilities, benefiting from its strategic location and driving revenue and employment growth. However, Egypt's lack of public oversight and the opacity surrounding agreements with Chinese operators and shareholders raise concerns. That opacity encompasses essential issues, including the fairness of concession costs, given Egypt's vulnerable position in negotiating with China, considering Cairo's pressing need for foreign funds.
The terms of the undisclosed agreements also prompt questions about the rights and authority of Chinese operators and shareholders in the Egyptian ports. Additional questions remain unanswered, including whether the contracts incorporate measures to prevent Chinese operators from offering preferential treatment to specific clients or if there are safeguards against practices that may benefit other Chinese-controlled Mediterranean ports at the expense of Egyptian ones. Moreover, is there a prospect for Chinese dominance in the Suez Canal Economic Zone? What is the likelihood of Egypt becoming over-dependent on Chinese maritime technology and expertise in the upcoming decades? Finally, the vague distinction between civilian and military aspects in China's global commercial ports raises further questions about its potential dual use of commercial ports.
Blurred civil-military roles
On Aug. 16, 2019, China's People's Liberation Army Navy (PLA Navy) marked a significant development when the Chinese guided-missile destroyer Xi'an docked in Egypt's main port of Alexandria for what was described as a four-day "technical stop." The Chinese warship berthed at a Chinese-operated terminal, most of which (over 80%) is owned by two Chinese firms: Hutchison Ports and the state-owned Shenzhen Yantai Port Group. But this event cannot be seen in isolation, as over the years PLA Navy warships have used multiple ports overseas operated by Chinese companies for repairs and maintenance under the guise of technical stops, including in Sri Lanka, Tanzania, Djibouti, Greece, Malaysia, Singapore, Indonesia, and Spain. The PLA Navy warship stop was followed by a joint Egyptian-Chinese military exercise conducted five days later. Various naval units from both countries, including the Chinese destroyer Xi'an, participated in drills to support "maritime security" and ensure global "maritime transport lines." These two significant events raise questions about the interplay between China's commercial port operations and the ambitions of its PLA Navy in the eastern Mediterranean.
Contrary to the U.S. dependency on multiple overseas naval bases, China has just one military base in Djibouti. However, multiple analyses have emphasized the importance of commercial overseas port facilities in securing sea lanes, reflecting the intertwined growth of China's overseas commercial ports, the modernization of the PLA Navy, and its ambitions in the so-called "far seas." Revealed in 2015, China's naval strategy, entitled the Near Seas Defense and Far Seas Protection, outlines the PLA Navy's goals to expand its reach. Whereas "near seas" refer to waters adjacent to China's borders, the "far seas" encompass all maritime routes worldwide and Beijing's intent to exert global influence without overtly designating its overseas facilities as military bases.
Where Chinese companies lead the development of commercial ports worldwide designed to accommodate large container ships, these facilities could have a dual purpose. That includes potential military applications, possibly granting China a more extensive and dependable logistics network, ensuring that the PLA Navy's ships remain functional and crews are well-supported and combat-ready. That aligns with China's 2017 National Defense Transportation Law, which lays the groundwork for harnessing civilian transportation resources to support military missions. The structure for such mobilization is intricate, necessitating collaboration among military, civilian government, and civilian enterprises that could be anywhere worldwide when required. Ultimately, this blurred distinction between civil and military functions at China's commercial ports has sparked worries for the United States. These concerns have been shared with allies like Israel and the United Arab Emirates, countries where China manages ports. The primary fear is that these facilities might have a dual purpose, including intelligence gathering and potential military applications that could undermine U.S. interests in the region.
Transparency and the need for balance
China's growing presence in Egypt's strategic ports and the Suez Canal brings both opportunities and complexities. While Beijing has promised economic growth and improved connectivity, Egypt must also weigh the potential downsides. Egypt's financial vulnerability, relatively weak bargaining position with China, and the risk of domination all require attention. So too do issues of transparency and public oversight, and making a well-informed decision will necessitate careful domestic deliberation. Reliance on Chinese technology and the interplay between commerce and military concerns add further complexity. Ultimately, Egypt should balance gains and risks through transparent agreements, diverse partnerships, and strategic negotiations. This approach supports economic benefits while preserving sovereignty. Striving for equilibrium should be crucial for Egypt's ambition to become a maritime hub amid changing global dynamics.