07 Dec 2018
EDEX 2018 Concludes With Several Arms Contracts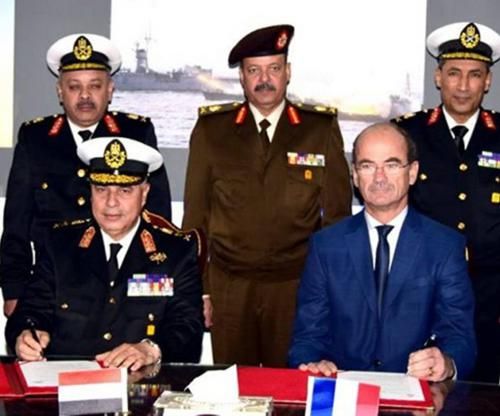 The Egyptian armed forces signed several arms contracts with international companies during the International Exhibition for Defense and Military Industries, EDEX 2018, according to the military spokesperson's Tamer El-Rafaie on Wednesday, Daily News Egypt reported.
A Memorandum of Understanding (MoU) was signed to establish a joint company between a French naval defense company, Naval Group, and an Egyptian Marine Industries and Services Organization (MIASO) to provide maintenance and technical support for all French naval units operating in the Egyptian army.
The Egyptian Naval Forces (ENF) signed another MoU with a French company specialized in joint manufacturing.
Other French companies, Thales Group and ACTIA, signed with Egypt a two-part deal to supply equipment for Egyptian satellite ground stations.
Commander of Egyptian air forces, Mohamed Abbas, signed an agreement with French Dassault Aviation to provide technical support and spare parts for Rafale jet fighters recently purchased by Egypt, to ensure their technical validation.
Abbas also signed an agreement to purchase drones from China's National Aero-Technology Import and Export Corporation (CATIC). Another agreement was signed with Italy's Leonardo company to supply advanced radars for the Egyptian air defense forces.
Among the agreements, there was one signed with the Portuguese EID, part of the UK-based independent technology group Cohort, to supply an internal communication system, and another deal with the Bulgarian company, Samel-90, to supply and develop electronic jamming stations in Egypt.
"These deals were the results of the successful first International Defense and Military Industries Exhibition, EDEX 2018, which aims to enhance the defense capabilities of the Egyptian military's various branches," El-Rafaie concluded.