07 Jul 2020
EDEX Mourns the Death of Lieutenant-General Dr. Mohamed Saed Al-Assar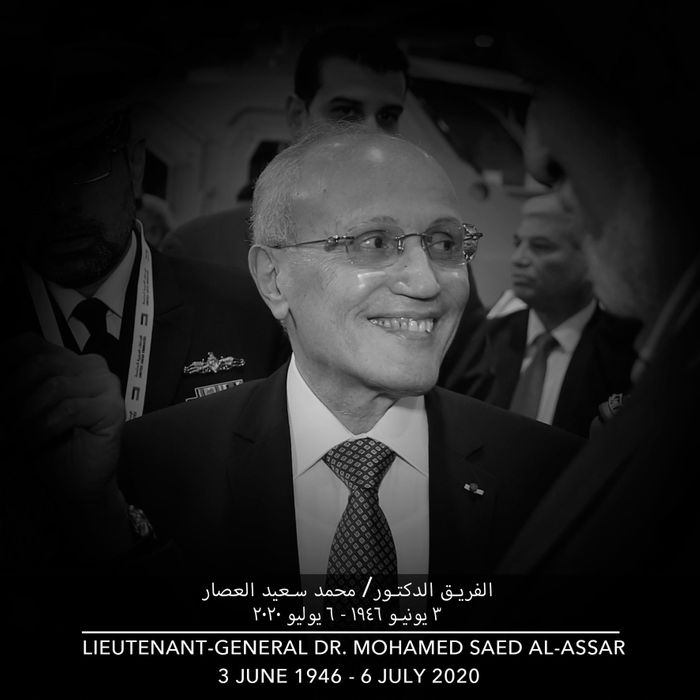 Egypt Defence Expo team mourn the loss of Lieutenant-General Dr. Mohamed Saed Al-Assar, Minister of State for Military Production, who passed away yesterday afternoon, after a long career serving the Egyptian Armed Forces and as the Chairman of EDEX.
He was an engineer turned military officer and headed the Armament Authority of the Ministry of Defence until retirement in 2003. He served as Assistant Minister of Defence, subsequently becoming the 13th Minister of Military Production. He took up office in 2015 and was vital part of the launch of Egypt Defence Expo in 2018.

From Al Ahram (Source):
Egypt's Minister of State for Military Production Mohamed El-Assar passed away on Monday at the age of 74, the Egyptian presidency announced.
"Egypt has lost one of its unique military icons… a fighter who gave his life to serve his homeland and a wise man who took part in running the country during a difficult period," the presidency said.
El-Assar was a member of the Supreme Council of the Armed Forces during the 2011 Revolution, when the army sided with the Egyptians' demand to oust Hosni Mubarak.
He was named the military production minister in 2015.
In late June, President Abdel-Fattah El-Sisi promoted El-Assar to the honorary rank of lieutenant-general, and bestowed upon him the Nile sash.
The presidential statement added that President El-Sisi expressed condolences in his name and on behalf of the Egyptian people and government.
The president's official social media accounts said El-Assar was a unique statesman and spared no effort for his homeland.
The president added that El-Assar was always at the forefront of Egypt's men who defended it in critical moments of its history
The Amed Forces mourned the death of El-Assar, offering condolences to his family.
Egyptian cabinet said he did his best to serve his country in every field he worked in and in every position he occupied.
The General Intelligence also mourned El-Assar in a statement, saying El-Assar "dies after a long journey of struggle, work, and sacrifice for the nation."
Other mourners included the trade and industry minister, petroleum minister, public enterprise minister, the Federation of Egyptian Industries, various political parties, members of parliament, and the Saudi Ambassador to Egypt, Osama Al Nugali.
A military funeral is scheduled for El-Assar on Tuesday.