12 Jul 2018
Egypt army chief-of-staff inspects security units in East Suez Canal region, follows up on Operation Sinai 2018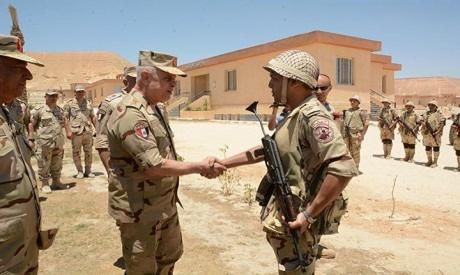 Egypt's Army Chief-of-Staff Mohamed Farid inspected on Thursday Armed Forces units in the vicinity of the East Suez Canal region and the Third Field Army in central Sinai to follow up on developments in the anti-terrorism Operation Sinai 2018.
He conveyed to the army units greetings from President Abdel-Fattah El-Sisi and Minister of Defence Mohamed Zaki, praising their success and victories over terrorism in northern and central Sinai.
Farid also inspected the permanent headquarters of the East Suez Canal anti-terrorism region and the central operation command of the Third field Army.
The chief-of-staff also heard a report on north and central Sinai residents' living conditions, ensuring that they consistently receive essential goods, as well as the process of handing over security duties to police in areas cleansed of terrorist presence.
Operation Sinai 2018 was launched on 9 February with the aim of targeting "terrorist and criminal elements and organisations" in northern and central Sinai, as well as parts of the Nile Delta and the Western Desert, the army said at the start of the operation.

Source