28 Jul 2020
Egypt, France Conduct Naval Drills in Mediterranean Sea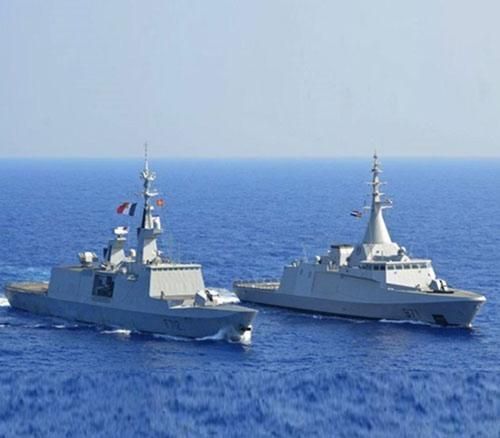 Egyptian and French naval forces carried out on Saturday naval drills in the Mediterranean Sea, local media quoted a statement issued by the Egyptian Armed Forces.
Two stealth frigates, one from each navy, participated in the exercise, an Egyptian military spokesman said in the statement.
The drills focused on methods of organizing cooperation to implement combat missions against hostile naval formations as well as engaging with surface and air targets.
The drills are meant to boost cooperation between the Egyptian and French armed forces in a way that contributes to improving skills and exchanging experience as well as preserving security and stability in the Mediterranean, the spokesman said.
Egypt regularly holds joint military exercises with other countries to boost military collaboration and exchange military expertise.
Early July, Egypt conducted military drills, dubbed "Hasm 2020" in the western region, in the presence of Chief-of-Staff for the Armed Forces Mohamed Farid.
The man oeuvres aimed at facing mercenaries and threats on the country's western borders. A military statement at the time said: "The man oeuvres were instigated in the western region due to sharp and quick variations that the region has been witnessing recently."
The Armed Forces' land, naval, and air defense forces, including Sa'ka Forces (Thunderbolt Forces), took part in the drills. The army shared a video, entitled "The Egyptian Army defends rather than threatens," that showed the exercises.
The drills started with airstrikes by several multi-task aircraft and various exercises by naval forces and Special Forces. The army carried out successful raids on a coastal target using speedboats pushed by a Mistral Helicopter Carrier.