19 Sep 2023
Egypt, Hungary discuss ways to bolster mutual cooperation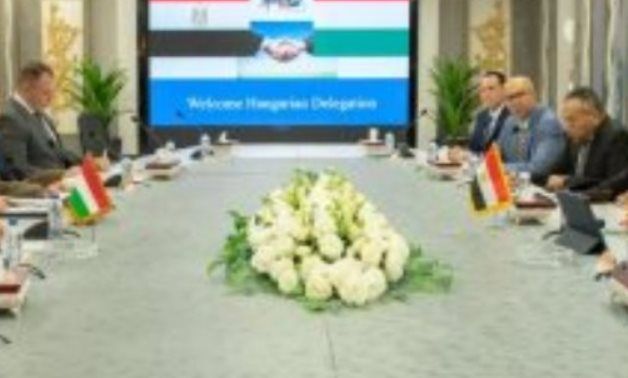 Egypt's State Minister for Military Production, Engineer Mohamed Salah El Din Mustafa, welcomed Hungarian Defense Minister, Kristóf Poprovinsky, to discuss ways to bolster mutual cooperation.
The meeting took place at the ministry's headquarters in the New Administrative Capital, with the presence of the Head of the Egyptian Armed Forces Armament Authority and András Kovács, Hungary's Ambassador to Cairo.
Minister El Din extended a warm welcome to Poprovinsky and his accompanying delegation, emphasizing the strength and resilience of Egyptian-Hungarian ties.
He acknowledged the special interest Egypt gives to the continuity of these relations, evident through the presidential visits exchanged between the two nations. President Abdel Fattah El-Sisi visited Hungary in both 2017 and 2021, attending the "Visegrád Group" summit. Conversely, the Hungarian head of state visited Egypt in 2019.
Highlighting the ministry's organizational structure, El Din pointed out that the ministry and its affiliated entities play a pivotal role in the national industry. The ministry supervises 16 industrial companies, 4 in other sectors, including an information systems company, a construction company, a maintenance firm, and a research center for scientific and technological excellence.
Additionally, the ministry oversees a training sector, a medical center, and testing fields for ammunition and weapons.
During the meeting, the minister hinted that collaboration between Egyptian military production companies and similar Hungarian firms would mark a significant shift in industrial cooperation.
This collaboration aims to transfer and localize industrial technologies as a fundamental principle to enhance the added value of Egyptian industry, accumulating expertise and technological capabilities. This move aligns with the ministry's work strategy and directions from political leadership.
Discussions spanned the potential cooperation in several military fields, including exchanging expertise in equipment longevity, supplying production raw materials, promoting armored steel exports, and other military product components. On the civilian front, collaboration possibilities include supplying raw materials for water treatment plants, sewage, water purification units, joint manufacturing of medical equipment and consumables, transport equipment, smart screens, natural gas cylinders for vehicles, electric motor production, and collaboration in solar energy systems.
For his part, Hungarian Defense Minister, Poprovinsky, stressed the importance of enhancing investment relations between the two sides, paving the way for joint projects and new investments in both countries.
He expressed his eagerness to support and encourage Hungarian firms to cooperate with Egyptian military production companies, given their vital role in deepening and localizing the industry. These entities play a significant part in Egypt, forming partnerships with various foreign and Arab nations.
Concluding the meeting, El Din Mustafa cordially invited Kristóf Poprovinsky and Hungarian firms to participate in the third edition of the "EDEX 2023" International Military and Defense Industries Exhibition, scheduled to be held in Egypt this coming December.