01 Feb 2022
Egypt inks $1.7 billion deal for K9 howitzers from South Korea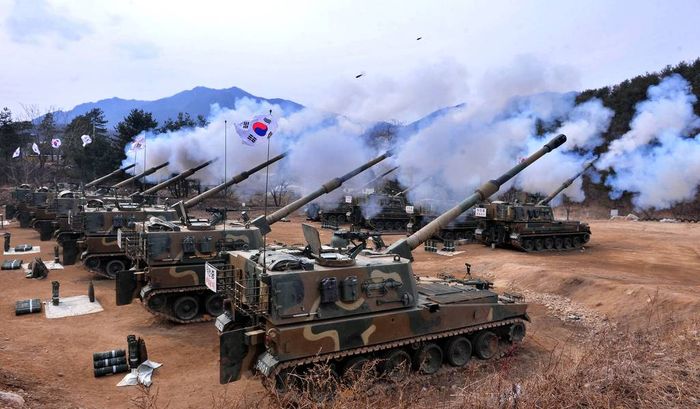 Hanwha Defense has signed the largest deal to export its K9 self-propelled howitzers and other support vehicles to Egypt, South Korea's Defense Acquisition Program Administration announced Feb. 1.
The arms agency did not disclose the details of the deal, valued around $1.7 billion, but a source privy to the deal told Defense News that about 200 K9 artillery systems will be supplied to the Egyptian military, along with scores of support vehicles, such as the K10 ammunition resupply vehicles. On Feb. 2, Hanwha confirmed the contract value in a news release.
"The contract is valued around $1.7 billion for hundreds of the K9 Self-Propelled Howitzer (SPH), K10 Ammunition Resupply Vehicles, and K11 Fire Direction Control Vehicle," the company said. "The K11 Fire Direction Control Vehicle is a new vehicle to be developed for the Egyptian military. Using the K9 chassis, the command-post vehicle will be equipped with a range of high-tech sensor and communication equipment in accordance with operational requirements of the Egyptian Army and Navy."
Under the deal, most of the artillery and vehicles are scheduled to be locally produced at Factory 200, a state-run defense manufacturing facility just outside the Egyptian capital, while an initial batch is to be delivered by Hanwha Defense, according to the source.
According to the DAPA, the signing ceremony was held at Artillery House in Cairo. The long-awaited deal goes back to at least 2009, when Egypt expressed interest in updating its artillery systems. But efforts were postponed for nearly a decade as the country underwent a revolt — part of what was dubbed the Arab Spring, a wave of pro-democratic protests, revolutions and civil wars in the region that began in 2011.
"The latest deal is the first export of the K9 Self-Propelled Howitzer to Africa following the artillery's successful exports to European and Asia-Pacific nations," DAPA said. "This is the largest K9 deal in scale, making Egypt the eighth country to operate the K9."