27 Jun 2021
Egypt, Iraq, Jordan summit promises strategic partnership bringing security, prosperity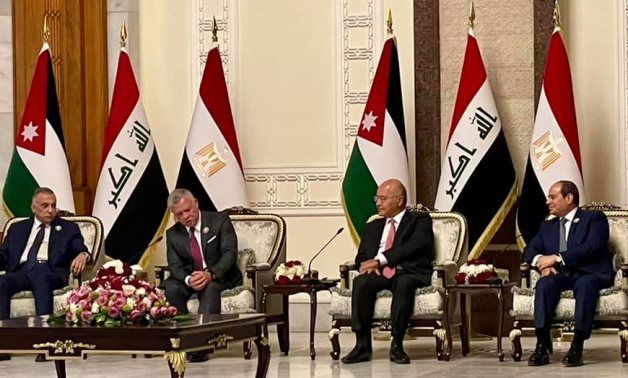 CAIRO – 27 June 2021: President Abdel Fattah el-Sisi's Sunday visit to Iraq, the first Egyptian presidential visit in 30 years, marked the beginning of a major partnership that may change the face of the region in the coming years.
"My presence in Baghdad today embodies the strong ties of our countries and nations. It also highlights our keenness on supporting these relations and developing them into wider horizons of a unity of goal and destiny, fulfilling our common interests," Sisi said in Baghdad.
He added that he hopes this represents the inception of a strategic partnership and close cooperation as the two countries walk in steady steps towards sustainable development.
Three summits were held prior in Egypt and Jordan; the first of the series of summits was launched in Cairo in March 2019.
The fourth one in Baghdad builds on them to assess joint projects and discuss means to enhance cooperation in all fields, as well as consolidate consultations on challenges facing the Middle East.
Sisi, Iraqi President Barham Saleh, Iraqi Prime Minister Mustafa al-Kadhimi, and Jordanian King Abdullah II bin Al-Hussein met together and separately to discuss promising partnerships.
In his meetings with Saleh and Kadhimi, the Egyptian president said he wants to diversify bilateral cooperation at the level of politics, economy, commerce, and culture, and especially in terms of the reconstruction of Iraq.
Sisi applauded the depth of the joint, ancient relations and ties in the framework of the tripartite cooperation involving Jordan, as well as Baghdad's sharing of Egypt's attention to joint Arab action addressing regional challenges.
For his part, Kadhimi said he wants a wider range of cooperation and for his country to benefit from Egyptian cadres in various fields, considering the Egyptian prominent role in strengthening Arab action against crises in the region, presenting a model to be followed in maintaining stability and advancing development, economy, and social conditions in the Arab world.
he two leaders discussed means to counter terrorism, extremist ideology and spreading tolerance and moderation on the regional level. That is in light of Egypt's role in defeating terrorist groups in the region, Al-Azhar's role as a beacon of moderation, and Iraq's role in defeating the Islamic State organization.
Meanwhile, Iraqi President Saleh said he wants to take relations with Egypt to the level of a strategic partnership as a cornerstone in preserving regional security after years of turmoil and restoring balance to the area, given Egypt's importance regionally and internationally.
Saleh also said he wants to benefit from the successful Egyptian experience in developmental projects and comprehensive economic reforms in the process of reconstructing Iraq. Baghdad would also benefit from being updated on Egypt's efforts to counter terrorism by more communication between the concerned institutions in the two countries, he continued.
Sisi also met with Iraqi House of Representatives speaker Mohamed al-Halbousi. The latter said he looks forward to all kinds of cooperation with Egypt, including parliamentary cooperation.
In the same context, Sisi emphasized his support for the state of Jordan and its leadership during the meeting with Jordanian King Abdullah. As Jordan made headline in the past few weeks for house arrests of public figures over "destabilizing the country's security," Sisi said Jordan's national security is an integral part of Egypt's, and that he supports the king's measures to preserve the kingdom's stability.
They both agreed on building on the historic ties jointly and as part of the tripartite alliance.
The strategic partnership between the three Arab states involves huge Egyptian projects in Iraq as part of reconstruction, which entails large numbers of Egyptian workers traveling to Iraq, as Egypt is becoming increasingly a trademark for construction and urban planning with many new communities having been built in the country in the past few years.
The partnership also includes importing oil from Iraq at a reduced price and exporting electricity to Iraq at a reduced price as well.