28 May 2021
Egypt, Kenya Sign Defense Cooperation Agreement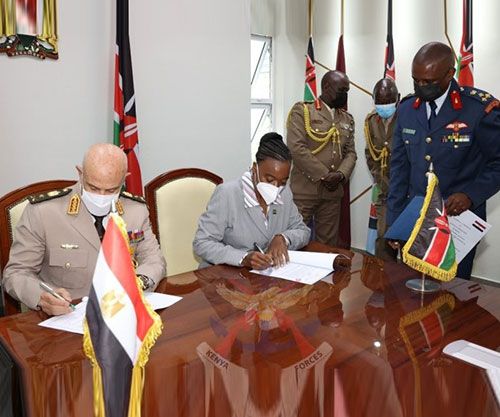 In seeking to enhance joint military relations in combating common security problems, Egypt on Wednesday signed a defense cooperation agreement with Kenya, local media reported.
Egyptian Chief-of-Staff, Lt-General Mohamed Farid Hegazy, signed the agreement for his country after holding talks with Defense Cabinet Secretary, Monica Juma and Kenya's Chief of Defense Forces, General Robert Kibochi, in Nairobi.
Juma signed the agreement on behalf of Kenya (photo), saying it will help both countries pursue "partnership in matters of mutual benefit".
This agreement is the fourth defense pact between Egypt and fellow African countries since the beginning of this year.
Egypt signed a defense agreement with Sudan in March. After the signing, an Egyptian statement said that both countries face common challenges and threats to their national security but are adding that unprecedented level of military cooperation.
In April, Egypt and Uganda signed a Memorandum of Understanding (MoU) on sharing military intelligence, which will allow the intelligence agencies of both countries to exchange information including "to combat terrorism".
Also in April, Egyptian and Burundian armies inked a military cooperation agreement in the fields of training and joint exercise.
Egypt has recently disputed with Ethiopia on the modality of filling the Grand Renaissance Dam on the Blue Nile. Although Ethiopia is the source of most of the Nile waters, Cairo maintained that the filling, without a treaty, threatens its water governance and national security.
On the other hand, Ethiopia, which dismisses the concerns raised by Cairo, says it will not withhold water, and that it has sovereign rights to use the water.
These agreements come amid renewed tensions between Egypt and Sudan on the one hand, and Ethiopia on the other. Both countries have recently engaged in shuttle diplomacy involving all riparian countries to resolve the disputations.
Egypt is isolating Ethiopia through military cooperation agreements with various countries. Observers think all of it were linked to preventing any sort of military coalition against it.
Kenya has maintained a principle of strategic neutrality and has an age-old mutual defense pact with Ethiopia which it signed during the days of Emperor Haile Selassie.
Ahead of President Sisi's scheduled visit, Egypt sent two C-130H military transport planes loaded with medical supplies and food items to Djibouti. Al-Sisi is expected to pay an official visit to Djibouti this week, during which he will meet with President Guelleh and discuss bilateral relations, joint cooperation, the Horn of Africa as well as well as GERD matters.