07 Sep 2018
Egypt launches first locally built Gowind corvette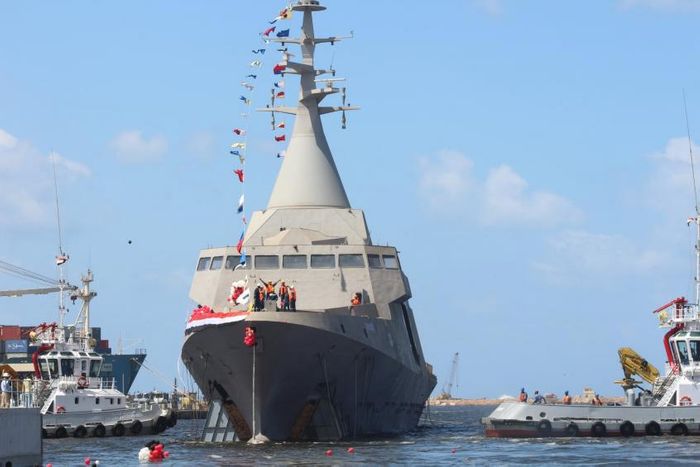 Alexandria Shipyard has launched the first locally built Gowind corvette, ENS Port Said, which is the first modern warship to be built in Egypt.
The vessel (976) was launched during a ceremony in Alexandria on 6 September.

In 2014 the Egyptian Navy ordered four Gowind 2500 corvettes for around 1 billion euros from France's Naval Group (formerly DCNS), with one, El Fateh built in Lorient and the other three being built in Egypt. El Fateh was delivered to Egypt in October 2017.

"Naval Group is proud to be present at the launching ceremony and to celebrate the strength of the long-term partnership with the Egyptian Navy. To deepen this commitment, Naval Group created the subsidiary Alexandria Naval for Maintenance and Industry in June 2018," the Group said.

Alexandria Shipyard cut the first steel for ENS Port Said in April 2016 and is busy with the third vessel, with a large portion of its bottom structure almost complete. In July, Naval Group shipped the sensor mast for the third vessel.

The Gowind design selected by Egypt is fitted with the Naval Group's SETIS combat management system including Panoramic Sensors and Intelligence Module (PSIM). A panoramic bridge offers 360° visibility and a single enclosed mast offers 360° sensor visibility. The mast integrates the SETIS combat management system as well as most sensors of the Gowind corvette including SMART-S radar and electronic warfare equipment (including Sylena decoy launchers).

Egypt's vessels will be equipped with 16 VL-MICA surface-to-air missiles and eight Exocet MM40 surface-to-surface missiles as well as one 76 mm and two 20 mm guns. The vessels can each carry one medium helicopter (such as the Eurocopter EC 725 Cougar) and will be fitted with torpedo launchers. Sensors include a Kingklip sonar and Captas 2 towed sonar.

The Egyptian Gowind 2500 has a total length of 102 metres, a width of 16 metres, displacement of 2600 tonnes and a maximum speed of 25 knots. Range at 15 knots is 3 700 nautical miles. Including a helicopter detachment, crew is 65 persons.

Egypt was in talks with France to acquire another two Gowind corvettes, but apparently talks stalled over cost concerns. If ordered, they would be produced by France in Lorient. It has been reported that Egypt is now looking to Germany's ThyssenKrupp Marine Systems (TKMS) to supply two Meko A200 corvettes

Port Said is the fifth vessel designed for Egypt by France's Naval Group, after the FREMM frigate ENS Tahya Misr (1001), the landing helicopter docks ENS Gamal Abdel Nasser (L1010) and ENS Anwar El Sadat (L1020) and the first Gowind corvette ENS El Fateh (971).