14 Mar 2022
Egypt, Lockheed Martin discuss cooperation in military production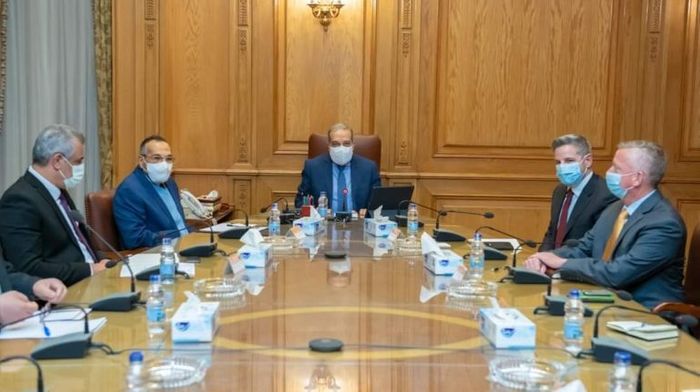 Minister of State for Military Production Mohamed Ahmed Morsi met with Vice President of American Lockheed Martin Raymond Paiselli to discuss ways to enhance cooperation between the two sides.
Morsi stressed that his ministry's primary role is to meet the demands of the armed forces and the police in terms of ammunition, weapons, and equipment, as well as civilian products and contribute to the implementation of national and development projects in the country.
During the meeting, the manufacturing, technological, technical, and human capabilities of military production companies and units were reviewed.
Furthermore, Morsi pointed to his ministry's keenness to benefit from the expertise of the American Lockheed Martin in many fields, stressing Egypt's aim to localise and transfer the latest global technologies in the field of military industries within companies and affiliated units.
He also asserted that Egypt has proved its growing leadership in the field of security and defence.
Additionally, Morsi praised the active participation of the American side in Egypt's latest military exhibition, pointing out his keenness to discuss the proposed aspects of cooperation in more depth.
On his part, Paiselli explained that the company operates in the field of manufacturing all kinds of radars, battle tanks, missiles, aircrafts, train operating systems, flight training systems, and technology laboratories.
He also pointed out his company's interest in cooperating with the Egyptian side in various fields of military manufacturing.
Moreover, Paiselli stressed that military cooperation between the US and Egypt has been an essential component of their strategic partnership for nearly 40 years.
Lockheed Martin adopts a three-pillar approach in its cooperation with its partners, which includes knowledge transfer, localisation of industries, and human capital development.
The VP stressed his keenness to contribute to the development of Egypt's defence industries sector.
Additionally, both sides discussed the possibilities of cooperation in a number of fields, including the manufacture of C6 ISR systems and coordinating in the field of development and software engineering.