08 Jan 2019
Egypt Participates in 'Red Wave 1' Naval Drills in Red Sea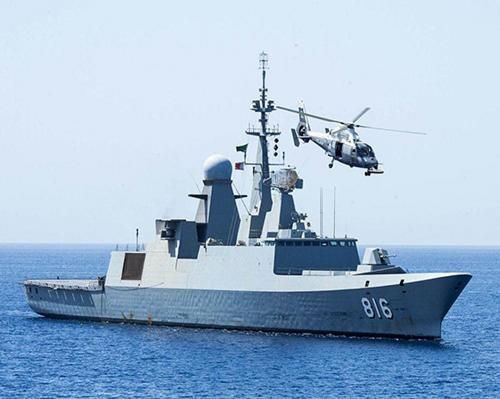 The Egyptian armed forces is taking part in joint military drills with Saudi, Jordanian, Sudanese, Djiboutian, Yemeni, and Mauritanian naval forces, the army said in a statement.
The drills called 'Red Wave I' kicked off Sunday in Saudi Arabia's territorial waters in the Red Sea and will close today.
The exercises aim to develop joint military campaigns among participating forces, as well as planning and managing skills of military operations among naval forces.
The preliminary stage included conducting a number of conferences and lectures to enhance understanding between involved forces.
Different activities were also executed to improve the forces' capabilities, develop skills of commanders and officers, and exchange expertise among them.
"This exercise, which is implemented by the Saudi naval forces, is one of the most significant, as it aims to enhance maritime security for the countries bordering the Red Sea, protect territorial waters, strengthen military cooperation and exchange combat experience between participants," said General Fahd bin Abdullah Al-Ghufaili, Commander of the Royal Saudi Naval Forces.
"The exercise includes a number of precisely planned assumptions (or theories) that are consistent with the capabilities of the Royal Saudi Naval Forces and our sophisticated marine systems," he added.
Last December 2017, the Egyptian and Jordanian armed forces carried out the 'Aqaba 4' joint drills in Jordan, with the aim to enhance military cooperation, combat mutual threats, and exchange expertise. The security plans will include deploying security patrols and Special Forces in all vital and significant areas and cities, particularly worshipping houses.
Also, in the same month, he Egyptian military started joint counter-terrorism exercises with several African counterparts from the Community of Sahel-Saharan States (CEN-SAD). The Egyptian military sees this as part of Egypt's plans to enhance its relations with "fellow African countries," in order to train troops on different military tactics. In December also, the Egyptian naval forces carried out joint military drills in the Mediterranean Sea with the participation of British and Italian naval forces. The Egyptian, Italian, and British naval forces took part in the drills, including a number of major vessels, such as the British RFA Lyme Bay.
In December also, the Egyptian armed forces signed several arms contracts with international companies during the International Exhibition for Defense and Military Industries (EDEX 2018).
Also, the Egyptian armed forces launched joint military drills entitled 'Arab Shield1' in the Mohamed Naguib military base in November 2018, with the participation of Saudi Arabia, the UAE, Bahrain, Jordan, and Kuwait.
In October 2018, the Egyptian and Saudi armed forces conducted military drills dubbed 'Tabuk 4′ in southern Egypt, to bolster military cooperation and ties between the two forces, in order to counter challenges and threats facing them, the Egyptian army statement said.