06 May 2019
Egypt receives third Type 209 submarine from Germany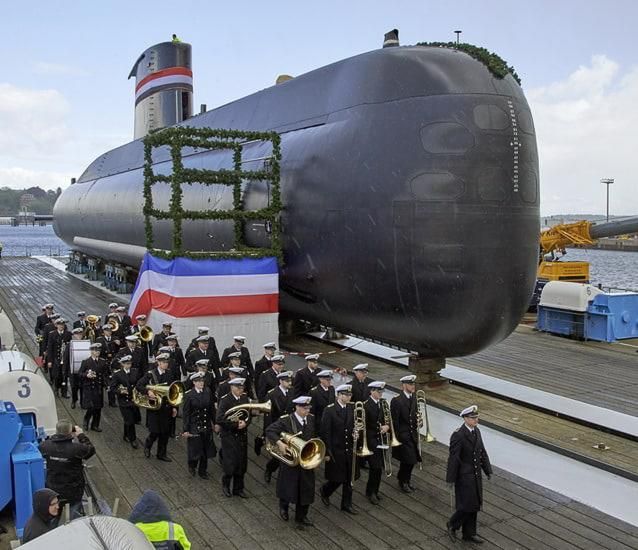 ThyssenKrupp Marine Systems (TKMS) has launched the third of four Type 209/1400mod class submarines for the Egyptian Navy at a ceremony in Kiel, Germany.
As part of the ceremony on 3 May, Vice Admiral Ahmed Khaled, Commander-in-Chief of the Egyptian Navy, officially named the boat S43. It will undergo sea trials before delivery to Egypt.
Dr Rolf Wirtz, CEO of ThyssenKrupp Marine Systems, said "This significant milestone in the construction programme for the Egyptian Navy is based on an open and trusting dialogue with our customer as well as the competence of our employees and suppliers. These are key factors on our successful way to become Europe's most modern naval company."
The contract for the delivery of the first two Type 209/1400mod class submarines to Egypt was signed in 2011. In 2015, Egypt decided to take the option for two additional units of the most recent version of the Type 209 family.
The first submarine, named S41, was handed over in December 2016 and the second submarine, named S42, in August 2017. The programme is planned to end with the handover of the fourth ship in 2021.
The Egyptian military has said the new Type 209 submarinees will be used to protect Egypt's national security, protect its economic interests and ensure safe and free navigation of the Suez Canal and other regions. The vessels have a range of 11 000 nautical miles, a top speed of 21 knots and displacement of over 1 400 tonnes.
Egypt said the Type 209/1400s will be able to launch missiles and torpedoes – it is believed they will be fitted with Harpoon anti-ship missiles.
The new Type 209s will most likely replace the Egyptian Navy's four elderly Romeo class vessels delivered in 1983/84.
News of the Egyptian submarine contract first surfaced in August 2012 when the deal was confirmed by Rear Admiral Osama Ahmed el-Gundi, the chief of the Egyptian navy staff. Preliminary negotiations for ex-German Navy Type 206A boats were reported to have begun in December 2004.
The Type 209 attack submarine was developed for export by Howaldtswerke-Deutsche Werft of Germany. Five variants of the class (209/1100, 209/1200, 209/1300, 209/1400 and 209/1500) have been exported to over a dozen countries, with more than 60 submarines being built and commissioned.
The average Type 209 has a crew of 30 and displaces 1 594 tons submerged. The type is 62 metres long with a 6.2 metre pressure hull diameter. It can dive to a maximum depth of 250 metres and is armed with eight torpedo tubes with 14 torpedoes. Speed is ten knots on the surface and 21 knots dived.

Source