08 Feb 2022
Egypt signs major arms deal with South Korea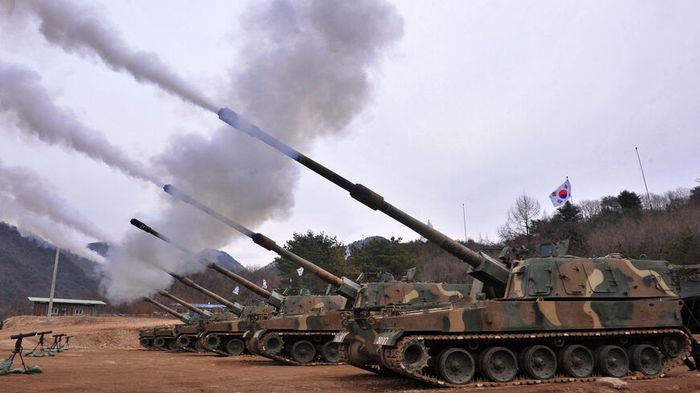 Egypt and South Korea signed a $1.66 billion deal to provide K9 self-propelled howitzers manufactured by Hanwha Defense to Egypt, and to locally develop arms, as the Egyptian army continues to diversify its weapons sources.
South Korean army K9 Thunder 155mm self-propelled howitzers fire during a live-fire drill in Pocheon, northeast of Seoul, South Korea, March 24, 2011. - Dong-A Ilbo/AFP via Getty Images
CAIRO — Egypt and South Korea announced in early February a $1.66 billion deal to sell K9 self-propelled howitzers to the Egyptian armed forces and to locally manufacture them in the Egyptian military factories.
According to a Feb. 1 statement by the Egyptian armed forces, Egyptian Minister of Defense Mohamed Zaki attended the signing ceremony of two military cooperation memoranda of understanding between Egypt and South Korea during his visit to Seoul, in the presence of South Korean Minister of Defense Acquisition Kang Eun-ho. Another contract was also inked with Hanwha Defense to jointly manufacture the K9A1 EGY self-propelled howitzer.
The statement continued that the first memorandum is centered on defense industry and logistical support, while the second is related to the principles governing defense cooperation in research and development, without providing any further details.
South Korea's presidency said in a statement Feb. 2 that the deal signed with Egypt is worth $1.66 billion, and added that it marks the largest ever deal for the export of K9s and serves as an opportunity to recognize the uniqueness of South Korea's arms system.
During the signing ceremony, Zaki stressed the Egyptian army's keenness to "keep pace with the development of the arms industry so that the military preserves its prominent position among the top world armies, in terms of military strength, trained human capabilities and advanced arms, to continue to assume its historical duties and mission in preserving the homeland's security and capabilities."
The deal came in the wake of South Korean President Moon Jae-in's visit to Cairo Jan. 20, where he met with Egyptian President Abdel Fattah al-Sisi. According to the Egyptian presidency, the two officials discussed "ways to boost military and security cooperation, especially the joint manufacturing and the transfer and localization of technology, in light of Egypt's pivotal role in the region and its duty to achieving stability, security and combatting terrorism, and given South Korea's advanced technology and military industry."
Speaking at a press conference in Cairo following his meeting with Sisi, Moon said that his visit to Egypt "is of major importance, given that it is the first visit by a [South] Korean president to Egypt in 16 years."
Mohamed al-Shahawy, adviser to the Egyptian army's Command and Staff College, told Al-Monitor over the phone, "South Korea's Hanwha Defense showcased the K9 self-propelled howitzers at the Egypt Defense Expo - EDEX 2021 [which concluded in December]. It has a major firepower and is very accurate."
Jeff Sung, spokesman for Hanwha Defense, told Akhbar Al-Youm Dec. 1 that the K9 self-propelled howitzer is one of the most advanced self-propelled artillery systems in the world, has a major fire power and long shooting range, in addition to quick displacement and excellent maneuverability, and it can be set to fire at the enemy after one minute only.
Shahawy said, "Egypt is diversifying its arms sources regularly. Previously, it concluded arms deals with the United States and Russia with the aim to boost Egyptian military capabilities."
The arms deal with South Korea came a few days after the United States approved Jan. 26 a $2.56 billion arms deal to sell Egypt 12 C-130J Super Hercules aircraft, air defense radar systems and other equipment.
Shahawy added that South Korea has advanced military capabilities at the international level, and striking deals with this country and diversifying arms sources is part of the Egyptian armed forces' strategy to enhance its military capabilities. The Egyptian armed forces are ranked 12th in the world, according to a January Global Firepower report, he added.
South Korea's Hanwha firm said in a statement in early February that the deal with the Egyptian army allows the self-propelled artillery system to have a presence in Africa for the first time, and makes Egypt the 9th country to have it.
Shahawy noted, "Egypt is the gateway to Africa, and the Egyptian cooperation with South Korea would serve as the start of South Korea's military cooperation and arms deals with African countries."
Gen. Nasr Salem, former head of the armed forces reconnaissance apparatus and adviser at Nasser Military Academy, told Al-Monitor, "Egypt is diversifying its armed forces weapons' sources through new deals, in addition to locally manufacturing weapons and military equipment, in order to ensure that the armed forces are powerful at all times, so that we can protect our national security and deter any threat by the enemy."
He said, "We are surrounded by many threats that require us to boost the Egyptian army's capabilities. North of the country, there is a conflict over gas fields in the Mediterranean Sea, and a Nile water crisis to the south [with Ethiopia]. In the west, there is instability in Libya; not to mention the constant threats of terrorism. When there are powerful weapons, any person or state would be deterred and prevented from threatening and attacking our interests."
Mohammad Hassan, a freelance researcher on defense policies, told Al-Monitor, "The recent arms deal between Egypt and South Korea is the largest ever concluded between the two countries. Its importance does not only lie in the purchase of self-propelled howitzers, but also in the transfer of manufacturing technology to the Egyptian military factories, which takes Egypt's local military manufacturing to another level of self-reliance and of meeting the armed forces' need for tactical and strategic weapons."
In a Feb. 1 statement, Kang expressed satisfaction with the military cooperation with Egypt, considering it a major regional power, hoping the two countries would sign more joint military cooperation and coordination deals.
Hassan concluded, "The recent arms deals underscore an aspect of Egypt's defensive strategy, which is the diversification of its arms sources so that Egypt's armed forces are ready to handle all threats with the latest weaponry in the world in order to secure Egyptian and Arab national security."
Source