02 Mar 2021
Egypt, Sudan to strengthen military pact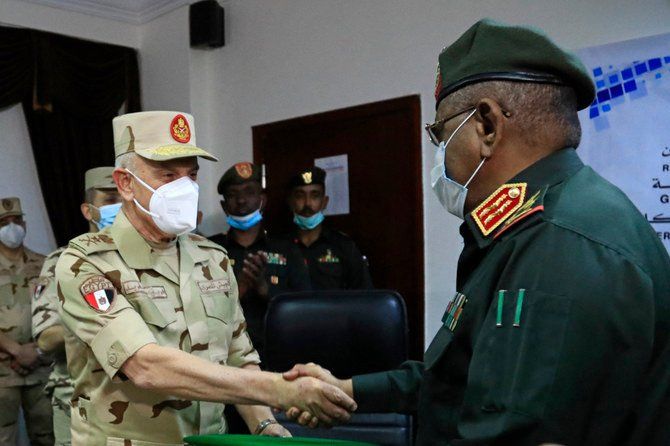 CAIRO: Mohamed Othman Al-Hussein, Sudan's military chief of staff, and his Egyptian counterpart, Lt. Gen. Mohammed Farid, signed a bilateral agreement at a meeting of the Egyptian-Sudanese military committee in Khartoum on Tuesday.
An Egyptian military delegation is visiting Sudan to hold key meetings as part of joint military cooperation.
Farid led a high-level military delegation to Khartoum to take part in the seventh meeting of the joint Egyptian-Sudanese military committee, headed by the chiefs of staff of both countries.
He will hold talks as part of military cooperation and strategic partnership between the two countries.
Egypt and Sudan have extended their joint relations on security since Lt. Gen. Abdel Fattah Al-Burhan became president of the transitional Sovereignty Council of Sudan following the ouster of former President Omar Bashir.
Last November, Sudanese air force units and Egyptian commando teams conducted a joint Egyptian-Sudanese air drill, Nile Eagles1, the first of its kind.
During a visit by Farid to Khartoum in November, Egyptian and Sudanese military leaders agreed to accelerate joint security and military cooperation.
They also agreed to carry out more drills for all armed forces branches, and step up cooperation in training, border security and combating terrorism, as well as technical insurance and military industries.