22 Jun 2021
Egypt, US discuss enhancing military cooperation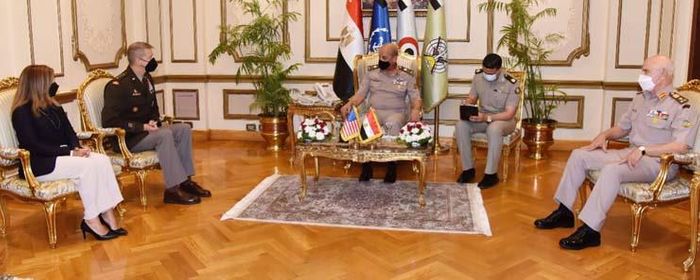 Commander-in-Chief of the Egyptian Armed Forces and Minister of Defence Mohamed Zaki has met with General Daniel Hokanson, Commander of the US National Guard, to discuss enhancing mutual cooperation and military relations.
Hokanson is currently visiting Egypt for an official visit that is due to last for several days.
The meeting addressed a number of topics of common interest in light of current regional and international developments and their impact on security and stability in the Middle East.
It also sought to discuss ways to strengthen cooperation and military relations between the armed forces of the two countries.
Zaki expressed his pride in the strategic partnership relations between the Egyptian and US armed forces in various fields. He also noted his keenness on the importance of coordinating efforts and increasing the prospects for joint military cooperation between the two countries.
For his part, Hokanson praised the strong friendship and coordination between the armed forces of both countries. He said that he looked forward to the future phase, witnessing further cooperation in a way that would meet the common interests of both sides.
Zaki also witnessed the signing of the Partnership Agreement between Egypt's Armed Forces and the Texas National Guard, to strengthen the military cooperation between the armed forces of both countries.
The meeting and the signing ceremony were attended by: Mohamed Farid, the Chief-of-Staff of Egypt's Armed Forces; a number of commanders from the Armed Forces; Jonathan Cohen, the US Ambassador in Cairo; and the US Defence Attaché in Cairo.