24 Aug 2021
Egyptian, American Naval Forces Conduct Joint Drills in Red Sea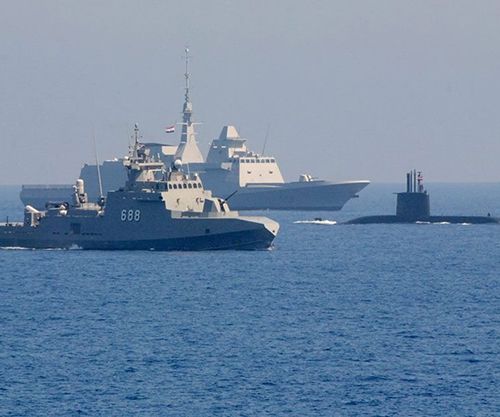 Both Egyptian and American naval forces carried out, on Tuesday, a joint drill in the Southern Fleet in the Red Sea, with the participation of the Egyptian frigate "Sajm Taba" and the American cruiser (USS Monterey).
The drill activities included holding a pre-sailing conference at the Berenice Naval Base, in the presence of specialists from both sides, followed by the implementation of a set of combat activities of a professional nature, especially in the field of enhancing maritime security measures, with the aim of securing sea transportation lines and global trade and combating any threats.
This training came within the framework of the Egyptian General Command of the Armed Forces plan to carry out joint naval exercises with different countries.
Egyptian-American relations have recently witnessed a remarkable development, as the recent joint exercises between the two countries reflect the convergence of visions and goals to maintain maritime security and stability in the region.
In a similar context, Egypt conducted the military drill "Zayed 3" with the United Arab Emirates.
During the exercise which kicked off earlier this month, the Egyptian and Emirati forces carried out a number of training operations meant to enhance the ability to operate joint air missions and exchange expertise.