03 Nov 2020
Egyptian army chief of staff, UK armed forces minister discuss fostering military cooperation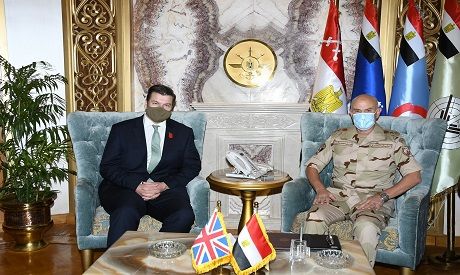 Farid and Heappey also discussed the latest developments in Libya and the Eastern Mediterranean region, counter-terrorism efforts, and future chances for conducting joint exercises
Egypt's Army Chief of Staff Mohamed Farid discussed Egyptian-British cooperation with the UK Minister for the Armed Forces James Heappey MP, who arrived in Cairo in an official visit that will last for several days.
According to an official statement by the Egyptian armed forces spokesman Tamer El-Refaie, Heappey expressed aspiration for "new horizons" of military cooperation with Egypt.
He praised friendly relations and joint coordination between the armed forces of both countries.
The meeting discussed a number of issues of mutual concern, in light of exchanging experience between the Egyptian and British armies, the spokesman said.
A number of Egyptian military leaders attended the meeting, as Farid received Heappey and his accompanying delegation.
Farid and Heappey also discussed the latest developments in Libya and the Eastern Mediterranean region, counter-terrorism efforts, and future chances for conducting joint exercises, according to a statement by the British Embassy in Cairo.
"There are shared challenges the UK and Egypt can work together to address: ensuring that a ceasefire holds in Libya, and provides a chance for peace; and combating the scourge of terrorism," the statement quoted the UK minister as saying.
"This is exactly what we need: an exchange of ideas, experience, and capability between our two countries. I look forward to further developments in future," Heappey added.
British Ambassador to Cairo Geoffrey Adams and British Defence Attaché Captain — Royal Navy — Stephen Deacon accompanied Heappey, the embassy said.
Adams said Heappey's visit to Egypt constitutes a "clear sign" of the importance the UK attaches to defence cooperation with Egypt.
"The UK is ready to enhance our partnership with our Egyptian friends and counterparts, working together to face shared challenges with agility, expertise, and strategic focus on the issues that matter," Adams added.
Heappey's visit comes one and a half years after UK's then-Minister for Armed Forces Mark Lancaster visited Cairo, where he met with Egyptian Minister of Defence Mohamed Zaki.
The Egyptian and British armed forces in March last year conducted a joint military training, dubbed Ahmus I, in the Mohamed Naguib military base in the northern governorate of Matrouh.
In November 2019, units of Egyptian armed forces' special forces, "Thunderbolt," and Britain's special forces conducted a joint counter-terrorism drill.