10 Feb 2022
Egyptian Defense Minister meets with CENTCOM commander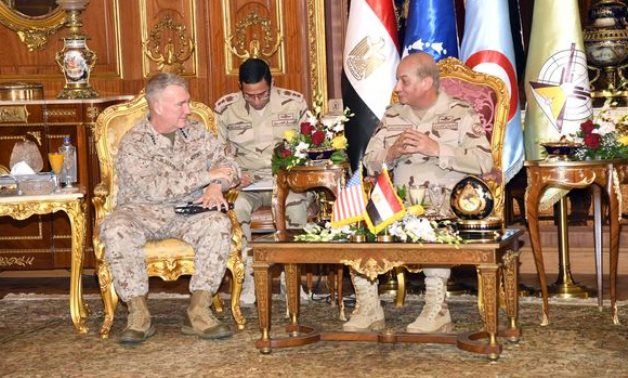 CAIRO – 10 February 2022: Minister of Defense and Military Production Mohamed Zaki met Wednesday with Commander of the U.S. Central Command (CENTCOM) Kenneth McZenzie in Cairo.
The meeting tackled a number of matters of mutual interest as well as ways to reinvigorate military cooperation and joint exercises, as indicated by the Egyptian Armed Forces' statement.
Minister Zaki expressed his appreciation for the deep-rooted relations between both armies, and asserted the keenness of the Egyptian Armed Forces' General Command on achieving cooperation targeted at countering joint challenges, and establishing peace and security in the region.
In turn, the CENTCOM commander stressed his country's eagerness on backing the strategic partnership and continuous coordination between Egypt and the United States. He added that the United States looks forward to increasing joint exercises with Egypt, in order to further experience exchange, and to enlarging the training capacities in various military branches.
The meeting was attended by Lieutenant General Ahmed Khaled, commander of the Strategic Command and general supervisor of military manufacturing, a number of the Egyptian Armed Forces' commanders, the United States' ambassador and military attaché.