12 Jun 2022
Egyptian, Iraqi Defense Ministers Discuss Military Cooperation in Cairo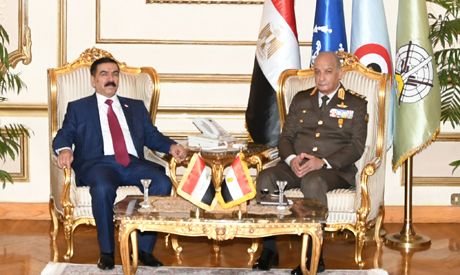 On Sunday, Egyptian Minister of Defense Major-General Mohammad Zaki held a meeting with his Iraqi counterpart Juma Inad in Cairo to discuss ways to boost military cooperation between the two countries, the Egyptian Armed Forces announced.
According to the Egyptian army, Zaki and Inad also discussed the latest regional developments.
During the talks, Zaki hailed the deeply-rooted relations between Egypt and Iraq, noting the Egyptian Armed Forces' keenness on fostering relations in various fields with its Iraqi counterpart, while Inad thanked the Egyptian army over its efforts in maintaining stability in the region.
The talks were attended by Egyptian Army Chief of Staff Mohamed Farid, a number of Egyptian and Iraqi commanders, the Iraqi ambassador, and Iraqi military attaché in Cairo.
On his part, the Iraqi defense minister commended Cairo's influential role in promoting peace and stability in the Middle East, according to Egyptian media.
Currently, the Iraqi defence minister is visiting Cairo with a delegation of top Iraqi military officials.