30 Mar 2023
Egyptian Naval Forces Organize Visit for Arab & Foreign Military Attachés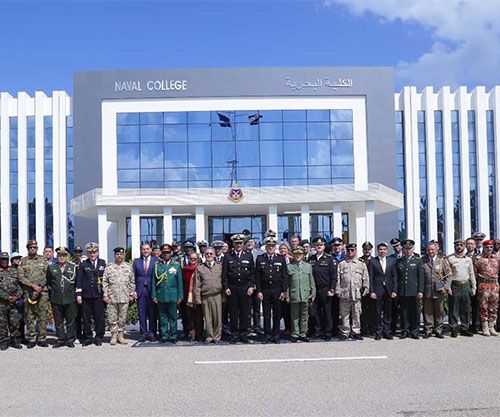 The Egyptian Naval Forces organized a visit by a number of Arab and foreign members of the military representation accredited to their embassies to the Naval Forces headquarter, as a continuation of the series of visits organized by the Armed Forces for the accredited Military Attachés to the Arab Republic of Egypt.
The visit included a tour of the Naval College and its advanced educational facilities, according to the latest digital education systems, a visit to the "Gamal Abdel Nasser" helicopter carrier, the frigate "Port Said" and the arsenal of the Naval Forces, the Egyptian Ministry of Defense said in a statement.
This was followed by a visit to the Naval Forces headquarter, during which Lieutenant General Ashraf Atwa, Commander of the Naval Forces, expressed his appreciation for the visit of the members of the Military Attachés, which was followed by a review of modern and advanced capabilities that took place in the Navy recently.
The delegation of Arab and foreign Military Attachés pointed to the importance and positivity of these visits, which lead to more opportunities for joint cooperation during the coming period, praising the development and modernization of the technological capabilities that exist and are used in the Egyptian Armed Forces.