21 Oct 2021
Egyptian Navy Carries Out Naval Exercises with US, Greek, Spanish Counterparts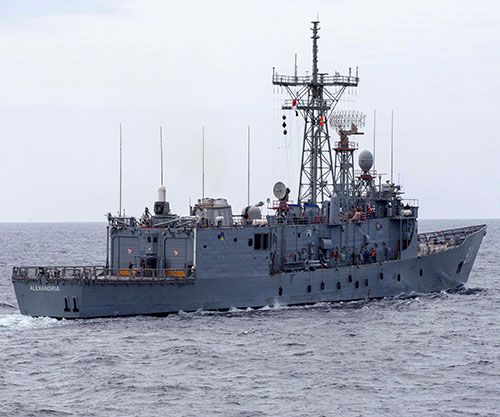 The Egyptian Naval Forces carried out naval drills with their US, Greek, and Spanish counterparts. The joint naval exercises aim to enhance the combat capabilities of the naval units and their crews in support of maritime security and stability in the region.
This comes as a continuation of joint exercises conducted by the Egyptian Naval Forces with their global peers, local media reported
The Egyptian frigate Alexandria (photo) carried out a fleeting naval training with the Greek frigate HS Kanaris, within the range of the Northern Fleet in the Mediterranean Sea.
While the Egyptian Southern Fleet carried out transit naval training with the US Navy in the Red Sea, with the participation of the Egyptian frigate Taba and the American ship USS Okane.
The Egyptian forces have also executed a transit naval training with the Spanish Navy with the participation of the Egyptian frigate Al-Zafer with the Spanish frigate ESPS Victoria.
The exercises included conducting a set of various naval combat activities aimed at strengthening maritime security procedures in the Mediterranean and Red Seas to assess surface and air threats. The drills also aim to prepare the navies of Egypt, Spain, the US, and Greece to work homogeneously within a joint force charged with the tasks of maintaining maritime security to confront threats to the international freedom of navigation and the flow of global trade.