13 Jan 2021
Egyptian Navy Receives First Locally Made Gowind-Class Corvette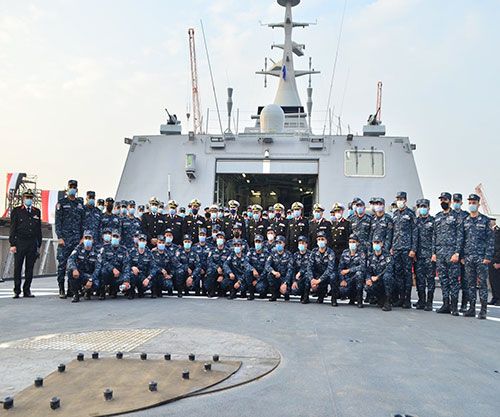 Egyptian Naval Forces Commander Vice Admiral Ahmed Khaled attended in Alexandria Monday the ceremony to receive the country's first-Egyptian manufactured Gowind-class design frigate, the Egyptian Armed Forces announced.
According to the Egyptian army, the stealth-Frigate, named Port Said, is the first ship to be 100 percent manufactured in Egypt by the Alexandria Shipyard company in cooperation with France's Naval Group, local media reported.
"The frigate is capable of carrying out various combat actions and is also distinguished by an integrated combat monitoring system against ships, planes, and submarines, and all this has been reflected in the complexity and accuracy of the design and the quality standards required to be achieved in its manufacture," the statement of the Egyptian army read.
In a speech during the ceremony, Vice Admiral Khaled asserted the support of the political leadership of the country to implement a full strategy to develop and to modernize the Egyptian navy's forces in order to boost security and stability in Egyptian territorial economic waters.
In September 2018,Egypt's armed forces launched the first Egyptian manufactured Gowind-class Corvette (Port Said Frigate) as part of a 2014 contract with France aimed at upgrading the country's marine fleet, the military said in a statement then.
"The frigate is now the most advanced piece of Egypt's marine forces", Lieutenant-General Ahmed Khaled, the Commander of the Egyptian Naval Forces, said during the launch ceremony.
The warship is aimed to enhance Egypt's naval capabilities "to achieve maritime security and protect borders and economic interests in the Red Sea and Mediterranean, while ensuring safe maritime navigation and bolstering security of the Suez Canal," Lieutenant-General Khaled said.
The corvette frigate is part of a 1 billion euro deal signed with France in 2014 to provide four naval frigates to the Egyptian naval forces. Egypt received the first corvette frigate manufactured by the French company in September 2017.
According to the deal, the other three corvettes will be built in Egypt under a transfer of technology agreement.
The multi-mission corvette is designed for surveillance and surface and subsurface combat and can also perform monitoring and policing missions, said Hervé Guillou, Naval Group's Chairman and CEO, adding that the warship was built in a record time.
"Naval Group is very proud to be part of this long-term partnership with the Egyptian authorities and industry. This ceremony is an opportunity to reiterate our strong commitment to execute all the programs and to equip the Egyptian navy with a homogeneous fleet," Guillou said, according to a press release by the company after the launch ceremony in September 2018.
Port Said is the fifth ship designed by Naval Group and operated by the Egyptian navy, after the FREMM frigate Tahya Misr in 2015, the two landing helicopter docks Nasser and Sadat in 2016 and the first Gowind corvette, El-Fateh, in 2017.