04 Aug 2020
Egyptian Navy to Receive 4th Submarine from thyssenkrupp Marine Systems in 2021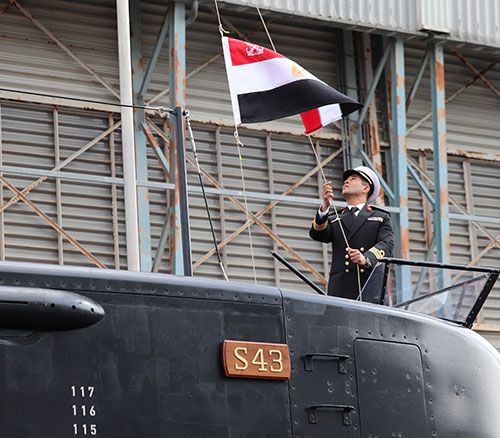 Germany's Minister for Economic Affairs Peter Altmaier recently announced the decision of the Federal Security Council to allow thyssenkrupp Marine Systems to deliver the fourth and final Submarine to Egypt, Deutsche Presse-Agentur reported.
The Egyptian Navy's third Type 209/1400mod submarine (S43) arrived in Egypt on 5 May (photo) after sailing from thyssenkrupp Marine Systems' yard in Germany. It was officially handed over to the Egyptian Navy on 9 April in Kiel.
In a personal letter prior to this handover, Vice Admiral Ahmed Khaled Hassan Said, Chief of the Egyptian Navy, praised the high quality of the boat and the outstanding performance of the employees of thyssenkrupp Marine Systems. He expressed his gratitude to all of them for ensuring the delivery on schedule. He added that this proves how strong and trustful both sides cooperate even in challenging times.
Dr. Rolf Wirtz, CEO of thyssenkrupp Marine Systems, stated: "Given the global corona pandemic, this handover marks a very special milestone for us. We are extremely proud of our employees, who completed the boat on time and in line with our comprehensive health protection measures. A big thank you for this. With tremendous care and discipline, something very special has been achieved! Our thanks also go to our customer, who has always put great trust in our capabilities!"
The contract for the delivery of the first two Type 209/1400mod class submarines to Egypt was signed in 2011. In 2015, Egypt decided to take the option for two additional units of the most recent version of the Type 209 family.
The first submarine, named S41, was handed over in December 2016 and the second submarine, named S42, in August 2017. The program is planned to end with the handover of the fourth ship in 2021.
Egypt's new Type 209 submarines have a range of 11 000 nautical miles, a top speed of 21 knots and displacement of over 1 400 tons. Egypt said the Type 209/1400s will be able to launch missiles and torpedoes – it is believed they will be fitted with Harpoon anti-ship missiles.
The average Type 209 has a crew of 30 and displaces 1 594 tons submerged. The type is 62 meters long with a 6.2 meter pressure hull diameter. It can dive to a maximum depth of 250 meters and is armed with eight torpedo tubes with 14 torpedoes. Speed is ten knots on the surface and 21 knots dived.
In April 2019, the German Parliament approved the sale of six Meko A200 frigates to Egypt.
With around 6,000 employees, thyssenkrupp Marine Systems is one of the world's leading marine companies and a systems provider in submarine and surface shipbuilding as well as maritime electronics and security technology. Over 180 years of history and the constant pursuit of improvements are the basis for the company's success in constantly setting new standards. thyssenkrupp Marine Systems offers customized solutions for highly complex challenges in a changing world.