13 Sep 2018
Egyptian President Hails Military Cooperation with US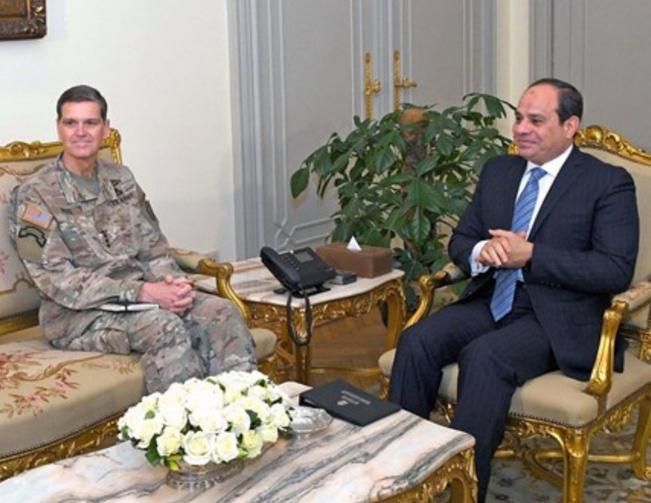 Egypt's President Abdel Fattah Al-Sisi stressed the importance of the strategic military cooperation between Egypt and the United Stated and praised the returning of the joint drills dubbed "Bright Star 2018," Daily News Egypt reported.
Al-Sisi's statements came during a meeting with General Joseph L Votel, who headed the US Central Command with the attendance of Egypt's Minister of Defense Mohamed Zaki and the US Embassy in Cairo's Charge d'Affaires Thomas Goldberger.
During the meeting held in Cairo on Saturday, Al-Sisi reviewed recent updates regarding Egypt's efforts concerning combating terrorism.
According to the Egyptian presidency spokesperson Bassam Radi, Votel also praised the strong military relations between the two countries, emphasizing his country's readiness to enhance joint cooperation across all fields.
Furthermore, the meeting tackled bolstering further military coordination between Egypt and the US, as well as addressing recent international and regional updates.
Bright Star 2018 drills kicked off on 8 September and will last until 20 September. US military forces joined the Egyptian armed forces, as well as the armed forces of other participating countries at the Mohamed Naguib Military Base.
The first Bright Star exercise was in 1980 following the signing of the Camp David Accords in September 1978. The drills aim at enhancing joint military cooperation.
"This exercise is an important symbol of the long-standing strategic relationship between the US military and the Egyptian armed forces, and one of the many ways that we partner with Egypt to address common threats to regional security," the US embassy in Cairo quoted Goldberger.
A statement released by the US embassy added that the drills focus on "regional security, cooperation, and promoting interoperability in irregular warfare scenario."

Source​​​​​​​