06 Jul 2021
Egyptian President Inaugurates '3rd of July' Naval Base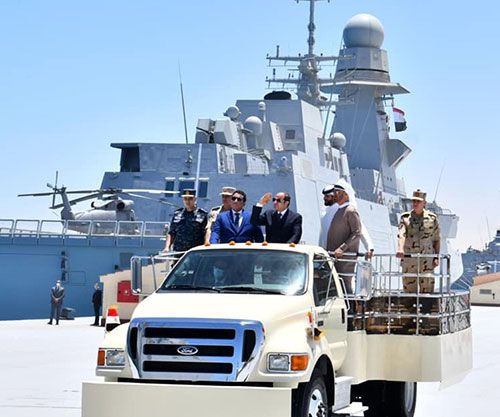 Egypt's President Abdel-Fattah Al-Sisi inaugurated, on Saturday, the "3rd of July" naval base located in Gargoub area, on the country's northwest coast.
Abu Dhabi Crown Prince Mohammed Bin Zayed Al-Nahyan, Head of Libya's Presidency Council Mohamed Al-Menfi, and senior Egyptian officials including Prime Minister Mostafa Madbouly and Minister of Defense Mohamed Zaki, attended the inauguration ceremony.
The base was named "3rd of July" in memory of the incidents that followed the 30 June 2013 revolution, local media reported.
The new base aims to secure the country's northern and western strategic borders. It's also tasked to secure the shipping lines in the area.
This is the latest addition to the Egyptian comprehensive development plan of the naval forces to confront any challenges in the Red and Mediterranean seas, as well as combat smuggling and illegal immigration.
In a speech, Commander of the Egyptian Naval Forces, Lieutenant-General Ahmed Khaled, reviewed the development and modernization efforts in the naval forces.
The Egyptian Armed Forces organized a tour for media representatives at the military base.
It was built on an area of more than 10 million square meters, accommodating 74 facilities, in addition to an airstrip, VIP hall, training fields, and an operations center equipped with the latest technological systems.
His Highness Sheikh Mohamed bin Zayed Al Nahyan, Crown Prince of Abu Dhabi and Deputy Supreme Commander of the UAE Armed Forces, congratulated President El-Sisi, the government and people of Egypt on the inauguration of the vital military base, wishing Egypt further progress and prosperity.
Sheikh Mohamed also conveyed the greetings of and congratulations of President His Highness Sheikh Khalifa bin Zayed Al Nahyan to the Egyptian President, Emirates news agency WAM reported.
Furthermore, on behalf of Prince Khalid bin Salman bin Abdulaziz, Saudi Deputy Minister of Defense, the Chief of General Staff of the Kingdom of Saudi Arabia Lt. General Fayyad bin Hamed Al-Ruwaili, also attended the opening of the July 3rd Naval Base, the Saudi Press Agency (SPA) reported.
The State of Qatar also participated in the inauguration ceremony of the Egyptian "July 3 Naval Base". Commander of the Amiri Naval Forces H.E. Major General Abdullah bin Hassan Al Sulaiti represented the State of Qatar in the inauguration ceremony, according to Qatar News Agency (QNA).
For his part, Bahrain Defense Force (BDF) Chief of Staff Lieutenant-General Theyab bin Saqr Al-Nuaimi attended the opening ceremony of "July 3 Naval Base" in Gargoub area on the northwest coast of Egypt.
Al Nuaimi met Egyptian Armed Forces Chief of Staff, Lieutenant General Mohamed Farid Hegazy, Bahrain News Agency (BNA) said.