23 Oct 2018
Egyptian President Inspects Future Military Air Base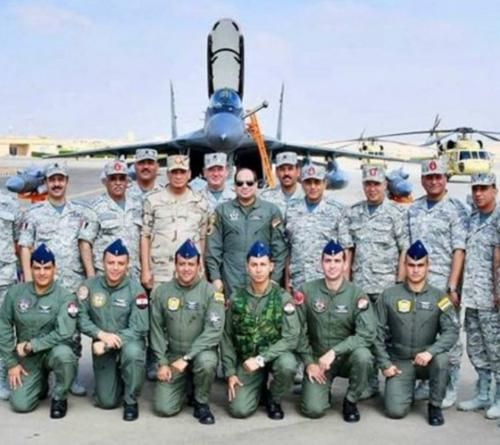 Egyptian President Abdel Fattah Al-Sisi visited a military air base on Friday and inspected air forces troops, according to a the Presidency's spokesperson statement.
Spokesperson Bassam Rady also said that the President inspected Egypt's Future project. Rady published pictures of the President wearing the air forces military uniform, and getting into a fighter jet.
The statement did not mention the name or the location of the airbase.
Meanwhile, the Egyptian and Saudi armed forces finalized their joint military drills dubbed 'Tabuk 4' in the southern military region of Egypt, according to a statement from Egypt's military spokesperson Tamer Al-Refaie on Friday.
Al-Refaie added that observers from Oman, Bahrain, and the UAE participated in the drills. The final phase of the exercises included implementing joint operations for combating an armed terror site in a residency, and using live fires.
The exercises proved that the armed forces that participated in the drills have high standards, and showed the close military concepts and doctrines between participating countries, according to the statement.
Minister of Defense Mohamed Zaki stressed the deep roots of the Egyptian-Saudi relations during the drills' final ceremony.
The Tabuk 4 drills aim to bolster military cooperation and ties between the two forces, in order to counter challenges and threats facing them, the statement said.
The drills include theoretical and practical exercises, exchanging combat experience, and holding an exhibition of equipment and weapons used in the exercises.
The drills aimed to exchange expertise in the fields of planning, organizing, and implementing various training activities, as well as enhancing the skills of the joint troops.
Both Egyptian and Saudi forces participated in the Egyptian-US Bright Star drills, which kicked off last September, with the participation of other countries at the Mohamed Naguib Military Base.
Furthermore, the Egyptian army took part in the major military drill 'Gulf Shield 1' in Saudi Arabia, with the participation of ground, naval, and air troops from countries of the GCC, earlier in March.
In the past years, Egypt and Saudi Arabia conducted several joint drills, including the Morgan joint naval exercises in 2013, and the Faisal air military drills in 2017.

Source