16 Apr 2020
Egyptian President Meets Top Commanders on COVID-19 Fight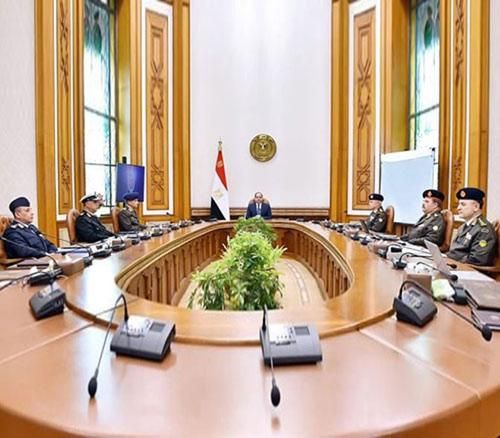 Egypt's President Abdel Fattah Al-Sisi met with Defense Minister Mohamed Zaki, Military Intelligence Director Mohamed Farid, and other top military Commanders, on Tuesday, to discuss the state efforts in curbing the coronavirus outbreak, Daily News Egypt reported.
During the meeting, President Al-Sisi followed up with the military Commanders on the efforts made by the Armed Forces in this regard among other issues.
The military has been undertaking disinfection and sterilization nationwide, as well as distributing free face masks to citizens in public spaces in attempt to slow the virus spread.
The Health Ministry reported on Tuesday 160 new coronavirus infections and 14 deaths. It was the country's highest one-day infections, bringing the total to 2,350 with 178 fatalities.
The Medical Syndicate and Medical Syndicates Union decided on Tuesday to pay out jointly EGP 100,000 in compensation to the family of each doctor who died of the coronavirus. Of this amount, the Medical Syndicate will bear EGP 50,000 and the Medical Syndicates Union will bear EGP 50,000. For infected doctors, EGP 20,000 will be given each.
In a statement, the syndicate said the compensation will be only released to doctors who work in Egypt and have been quarantined in one of the isolation hospitals.
The syndicate urged the concerned bodies to promptly disburse financial dues for doctors working in quarantine hospitals. Earlier, it had announced that three doctors in Egypt had died of coronavirus, while 43 others tested positive for the disease.
The World Health Organization (WHO) representative in Egypt John Jabbour said on Monday that 13% of Egypt's coronavirus infections are among healthcare workers.
Meanwhile, Saft Turab village in El Mahalla El Kubra, Gharbeya governorate, has been placed in a 14 day lockdown after 17 coronavirus infections and one death was detected in the village, according to media reports.
Lecico Egypt has closed its Borg El-Arab factory in Alexandria for 14 days after two workers at the factory were diagnosed with the coronavirus.
Since March, several villages across Egypt have been quarantined after dozens of coronavirus infections were detected. The virus has now spread across 24 governorates.
Last week, the government extended the night-time curfew until 23 April, with all precautionary lockdown measures also extended for another two weeks amid efforts to curb the disease.
The Ministry of Agriculture and Land Reclamation has stressed that all gardens and parks affiliated with the ministry will remain closed over Sham El-Nasseem next Monday. The closures are to ensure any crowding is avoided, as part of state efforts to curb the spread of the coronavirus.