26 Aug 2020
Egyptian President, Navy Commander Meet CEO of Lürssen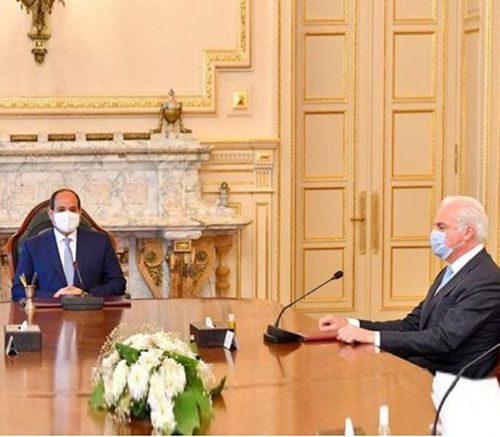 Egyptian President Abdel Fattah El Sisi met with Peter Lürssen, the CEO of German Lürssen for shipbuilding, in Cairo on Thursday, discussing ways of cooperation between the Egyptian side and the company, said Egyptian Presidential spokesperson Bassam Radi in a statement, Egypt Today reported.
The President discussed ways of transfer the shipbuilding technology in cooperation with the Egyptian naval arsenals and the companies of the Egyptian Marine Industries and Services Organization (MIASO), Radi added, noting that the meeting also tackled training programs for technical workers and raising the capabilities of Egyptian cadres.
Lürssen is one of the largest ship fortresses in the world and owns 8 shipyards in Germany and the world. Recently, the company won a contract to manufacture destroyers for the German Navy.
The meeting was attended by the Commander of the Egyptian Navy Vice Admiral Ahmed Khaled, Radi continued.
In April 2020, the Egyptian Naval Force received the its third Type 209/1400mod submarine (S43), which is one of four submarines as per a contract signed between Egypt and Germany in 2014, according to a statement from the Egyptian Armed Forces Tamer al-Refaey.
The navy would receive the fourth submarine from Germany's ThyssenKrupp Marine Systems (TKMS) in 2021, Navy Recognition reported on July 24, 2020.