11 Nov 2020
Egyptian President Receives Chief of UK's Secret Intelligent Service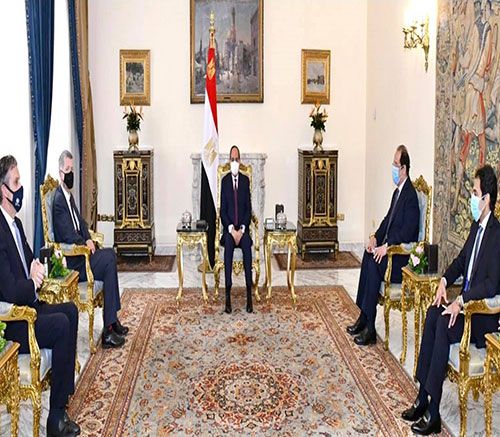 Egypt's President Abdel Fattah Al-Sisi met, on Monday, with Richard Moore, the Chief of the UK's Secret Intelligence Service (MI6), to discuss mutual cooperation in security matters, local media reported.
During the meeting, Al-Sisi stressed Egypt's keenness to boost relations and cooperation with the UK in all fields, particularly regarding intelligence and security issues.
Abbas Kamel, Chief of Egypt's General Intelligence Service (GIS), and the British Ambassador to Egypt Sir Geoffrey Adams were also present during the meeting.
For his part, Moore conveyed the greetings of British Prime Minister Boris Johnson to President Al-Sisi, and expressed his country's pride in its constructive cooperation and close relations with Egypt.
He affirmed the UK's keenness to maintain continuous coordination with Egypt especially in light of the latest developments in the Middle East, the Eastern Mediterranean and Africa.
Moore also praised Al-Sisi's efforts to consolidate regional security and stability, which cemented Egypt's role as a stabilizing axis for regional security. This has particularly been through Cairo's success in combating terrorism and illegal immigration, according to a statement from the Egyptian Presidency's Spokesperson.
The meeting witnessed discussions on methods to enhance security and intelligence cooperation between the two countries. President Al-Sisi said that, in light of the spreading threat of terrorism and extremism at the regional and international levels, it is imperative that all countries unite to confront it.
According to Al-Sisi, this could be achieved through a comprehensive approach that includes isolating extremist ideologies, and upholding the values of citizenship, moderation and dialogue.
He also stressed the importance of strengthening and supporting development efforts, as well as restoring the institutions of states suffering from current crises in the region, to achieve security and stability.
Both Al-Sisi and Moore exchanged views on developments related to several regional issues of common interest. The meeting addressed tensions in the Eastern Mediterranean region, as well as the crisis in Libya.
Moreover, the president briefed the UK official on Egypt's vision regarding the Libyan crisis, which is based mainly on supporting political solutions, respect for sovereignty and territorial integrity and abiding by the ceasefire.