16 Mar 2022
Egyptian, Sudanese army chiefs-of-staff discuss enhancing military cooperation, joint exercises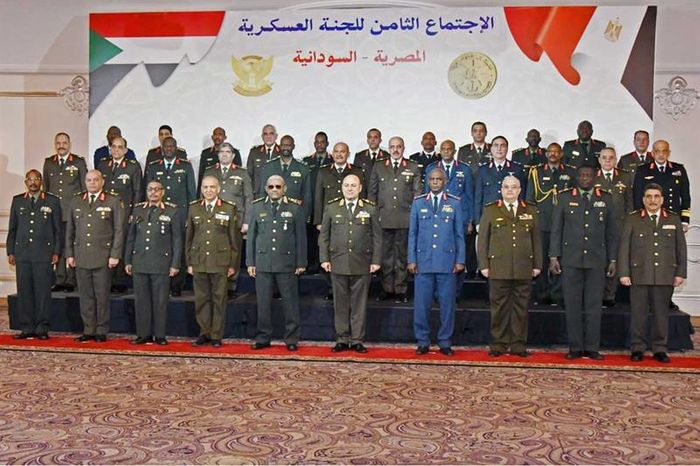 Chief-of-Staff of the Egyptian Armed Forces Osama Askar and his Sudanese counterpart Mohamed Othman Al-Hussein discussed boosting military cooperation and joint exercises in a meeting in Cairo.
Chief-of-Staff of the Egyptian Armed Forces Osama Askar, his Sudanese counterpart, Mohamed Othman Al-Hussein and army commanders from both countries pose for a photo during the 8th meeting of the Egyptian-Sudanese Military Committee, 16 March 2022. Egyptian army spokesman
Leading a Sudanese delegation, Al-Hussein is currently on a visit to Egypt to attend the eighth meeting of the Egyptian-Sudanese Military Committee, Egyptian Armed Forces' spokesman Gharib Abdel-Hafez said in a statement on Wednesday.
During their meeting, Askar and Al-Hussein agreed on enhancing the exchange of expertise between Egypt and Sudan and discussed cooperation between the two countries in various fields as well as issues of mutual concern.
Al-Hussein highlighted the deep and historic relations binding Egypt and Sudan, hailing Egypt's intensified efforts to support security, stability, and development in Sudan, the statement said.
The Sudanese military chief-of-staff also affirmed consensus with Egypt on formulating a joint strategy to achieve the interests of both countries.
Askar expressed hopes that the coming period will witness further cooperation between Egypt and Sudan in all fields within the framework of the firm strategic relations between the two countries.
A number of Egyptian and Sudanese commanders attended the meeting, according to the spokesman.
Egypt and Sudan have intensified coordination and enhanced bilateral relations throughout the past decade, with the two countries exchanging high-level visits, conducting several joint military exercises, and exchanging views on key issues of mutual concern.
During the seventh meeting of the Egyptian-Sudanese Military Committee in March last year in Khartoum, former chief-of-staff of the Egyptian Armed Forces Mohamed Farid signed a military cooperation agreement with Sudan.
High-level visits between the two countries have included a visit by Egypt's President Abdel-Fattah El-Sisi to Khartoum in March 2021 and a visit by former Sudanese foreign minister Mariam Al-Sadiq Al-Mahdi to Cairo in the same month.
Egypt and Sudan have also adopted similar visions on their dispute with Ethiopia over the Grand Ethiopian Renaissance Dam (GERD) that Addis Ababa is building on Blue Nile, expressing fears over their water interests due to Ethiopia's unilateral filling and operation of the mega dam.
In February, both Egypt and Sudan condemned Ethiopia's commencing with the GERD operations as a breach to Addis Ababa's international commitments and the Declaration of Principles signed in 2015.