19 Jun 2021
Egypt's Al-Sisi meets army leaders, checks out locally made armoured vehicles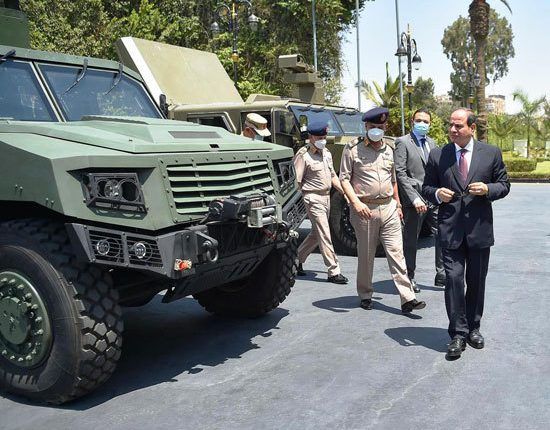 Egypt's President Abdel Fattah Al-Sisi inspected a number of multi-tasking armoured vehicles, on Saturday, which were domestically manufactured by the Egyptian Armed Forces.
Presidency spokesperson Bassam Rady revealed that Al-Sisi heard a detailed explanation of the different stages in manufacturing the armoured vehicle. This started with the design and conducting laboratory tests, through to the approval of the designs until the final product stage.
Rady also said that the production of the armoured vehicle "takes into account the … highest quality standards".
The President inspected the vehicles in the presence of Minister of Defence Mohamed Zaki, Chief-of-Staff of the Armed Forces Mohamed Farid, and a number of Armed Forces commanders.
Earlier, Al-Sisi met with army leaders to discuss the General Command's plan to develop and raise the efficiency of Egypt's Armed Forces. This will also see efforts to raise the level of training and qualification for all elements of the forces according to the latest technologies in the field of training and armament.
Rady added that Al-Sisi discussed the latest developments in the participation of some segments of the Armed Forces in the "Decent Life" initiative. This aims to develop the Egyptian countryside in several stages, in cooperation with all state agencies and institutions.
The President highlighted "the importance of implementing this initiative according to the timeline, which will directly benefit the citizens."
He added that this will also contribute to achieving the sustainable development process for all villages across the country.