19 Sep 2018
Egypt's army chief of staff meets CENTCOM commander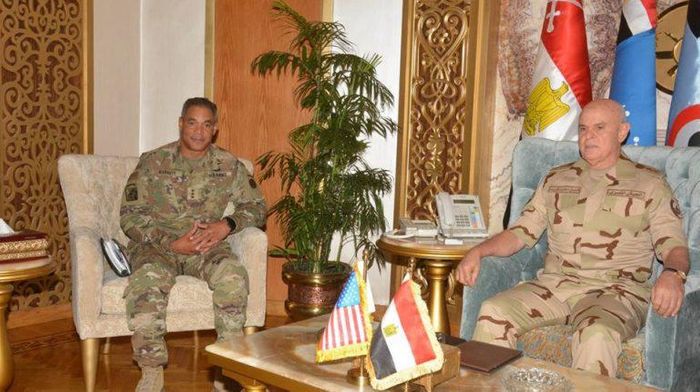 Egypt's Army chief of staff, Mohamed Hegazy met on Monday the Commander of the United States Central Command (CENTCOM) General Joseph L Votel amid the ongoing 'Bright Star 2018' between the two countries.
The two senior military leaders discussed ways to enhance the strategic security relationship between Egypt and the US, a historic partnership, which plays a leading role in counter-terrorism and regional security.
About 800 US military service members will participate in 'Bright Star' for the second year in a row, since its resurgence at the invitation of the Egyptian armed forces, according to a previous statement by the US embassy.
The focus in this year's drills will be on regional security and cooperation, as well as promoting interoperability in irregular warfare scenarios.
During Monday's meeting, Hegazy asserted that Egypt's military is keen on future collaboration between the two countries.
This year naval and air forces from Egypt, US, Greece, Jordan, the United Kingdom, Saudi Arabia, the United Arab Emirates, Italy, and France will participate in the drills in addition to several countries, which were invited to monitor the drills, including Lebanon, Rwanda, Iraq, Pakistan, India, Kenya, Tanzania, Uganda, the Democratic Republic of Congo, Chad, South Africa, Senegal, and Canada.
Egypt has enhanced its military relations with the US throughout the last years. On Monday, the State Department has made a determination approving a possible Foreign Military sale to Egypt of 46,000 M831A1 and M865 rounds, and 10,000 APFSDS-T rounds, for an estimated cost of $99m.
The Defense Security Cooperation Agency delivered the required certification notifying Congress of this possible sale.