02 Apr 2022
Egypt's Chief of Staff Returns Home after Official Visit to Cyprus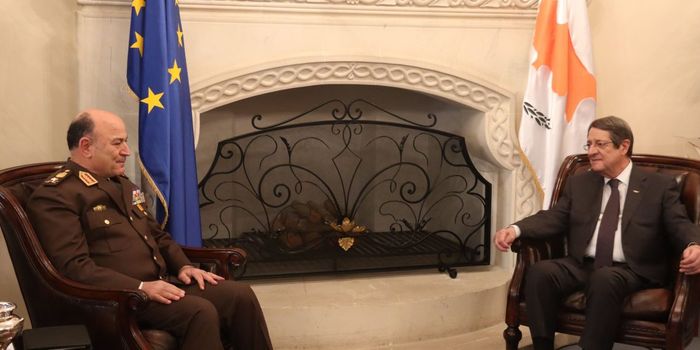 Lieutenant-General Osama Askar, Chief of Staff of the Armed Forces, and his accompanying delegation returned to the homeland after the end of an official visit to the Republic of Cyprus, according to Military Spokesperson Gharib Abdel Hafez.
"The official reception ceremonies were held, and the national anthems of Egypt and Cyprus were played," Abdel Hafez noted in a statement released on Saturday.
The military spokesperson revealed that Askar met during the visit with the President of Cyprus, Nicos Anastasiades; in the presence of Cypriot Defense Minister Charalambos Petrides and the Commander of the Cypriot National Guard, to whom he conveyed the greetings and appreciation of President Abdel Fattah El Sisi.
Askar also conveyed the appreciation and greetings of Lieutenant-General Muhammad Zaki, Commander-in-Chief of the Armed Forces and Minister of Defense and Military Production.
On his part, the Cypriot president praised the relations with Egypt and the consensus of visions between the two countries, especially with regard to the development of the Egyptian-Cypriot military cooperation in light of the depth of the ties.
Askar also met with Petrides, as he stressed the need to continue coordination between Egypt and Cyprus to achieve more cooperation in the defense and security fields, joint training, and exchange of experience between the armed forces of both countries.
In the meantime, the Cypriot Defense Minister referred to the importance of coordination and joint action to face challenges in order to achieve stability in the region.
The visit witnessed a session of talks between the Egyptian and Cypriot delegations that dealt with a number of issues of common interest.
During the visit, the Chief of Staff of the Armed Forces praised the high level and distinguished capabilities of the Cypriot armed forces, with their various weapons and specializations.
The meetings and visits were attended by a number of leaders of the Egyptian and Cypriot armed forces.