06 Jun 2021
Egypt's defence minister, army chief of staff discuss cooperation with Cypriot National Guard chief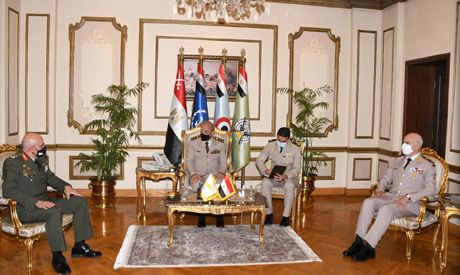 Egypt's Defence Minister Mohamed Zaki and Chief of Staff Mohamed Farid discussed joint cooperation with Cypriot armed forces as they met on Sunday with with Demokritos Zervakis, the chief of the Cypriot National Guard.
Zaki and Farid received Zervakis, who is currently making a several-day official visit to Egypt, Egyptian military spokesman Tamer El-Refae said in a statement.
During the meeting, Zaki and Zervakis discussed means to enhance cooperation and military ties with the Cypriot armed forces as they met on Sunday.
They also discussed a number of issues of mutual concern in light of ongoing regional and international developments and their reflection on security and stability in the Middle East, El-Refae said.
Zaki voiced his country's appreciation of the strategic partnership between the armed forces of both countries in various fields, especially defence and security.
Zaki also stressed the importance of coordination of efforts and military cooperation between the Egyptian and Cypriot forces.
Meeting with the Egyptian army chief of staff, Zervakis discussed issues of mutual concern in light of the special relations between the two countries' armed forces.
Zervakis hailed the firm friendship and coordination between the two armies, expressing the aspiration of the Cypriot armed forces to support new horizons of military cooperation between Egypt and Cyprus.
A number of military commanders as well as Cypriot Ambassador to Egypt Omiros Mavromatis and Cyprus Defence Attache Costas Fotiou attended the meeting, according to the spokesman.
Egypt and Cyprus over the past few years have conducted numerous joint drills, including the naval and air drill (dubbed Medusa 10) in the Mediterranean along with Greece in December.
Zaki also travelled to Cyprus last month to attend trilateral talks with his Cypriot and Greek counterparts to bolster military cooperation.