24 Jun 2018
Egypt's military announces setting-up of counter-terrorism centre for Sahel-Saharan states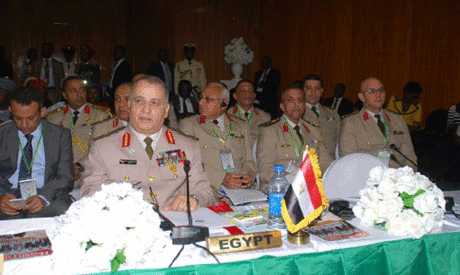 Egypt's armed forces have finished setting up a counter-terrorism centre in Cairo for the Community Sahel-Saharan States (CEN-SAD), it announced on Thursday.
The centre is aimed at improving counter-terrorism cooperation and bolstering security, economic and political ties between member countries, the military said.
The 14,000 sqm centre is fitted with the latest audio and visual equipment, to help achieve greater cooperation in this regard.
The armed forces made the announcement as the seventh meeting of the ministers of defence of the 27-member Community of Sahel-Saharan States held in Abuja, Nigeria concluded.
Egypt was represented at the meeting by a delegation from the Ministry of Defence, headed By Deputy Defence Minister Mohamed El-Kashky.
Egypt said it will be providing 1,000 military scholarships for the region's military students.
The meeting wrapped up by issuing the Abuja declaration which urged greater security cooperation between member states as well as called for abiding by the Libyan Political Agreement – signed in Skhirat in December 2015 – seeking a political solution in the North African country.
The Community of Sahel-Saharan States was established in 2018 and is aimed at bolstering regional security, economic cooperation and sustainable development in member states.
Members states also agreed to carry out regular counter-terrorism exercises.

Source