23 Apr 2020
Egypt's Military Produces Sterilization Booths to Curb COVID-19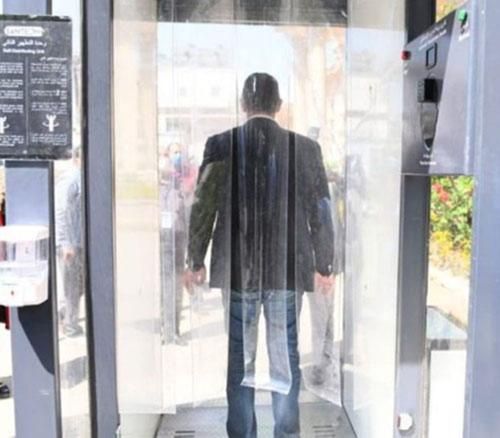 The Egyptian Ministry of Military Production is manufacturing sterilization booths as part of the state's precautionary measures to curb the coronavirus (COVID-19) outbreak, according to a Ministry statement, Daily News Egypt reported.
Helwan Machinery and Equipment Company and Helwan for Engineering Industries Company have collaborated to manufacture the automated booths. The booths are equipped with a device to measure body temperature, the statement added.
The Ministry has already delivered four sterilization booths to the House of Representatives, the statement said.
The Armed Forces have played a major role in Egypt's efforts to combat the coronavirus, regularly disinfecting and sterilizing main roads, railway stations, metro stations, and hospitals across the country.
As part of their ongoing efforts, they have also launched five new face mask production lines with a daily capacity of 100,000 units. The Armed Forces have also, under instruction from President Abdel Fattah Al-Sisi, distributed free face masks to citizens at metro stations, main squares, and public transport stations.
The military also has prepared 45 military hospitals as part of state efforts to limit the spread of the virus, alongside 22 quarantine hospitals and 1,000 ambulances allocated to the efforts.
On Wednesday, Egypt confirmed that the total number of coronavirus infections across the country has now reached 3,490 confirmed cases and 264 deaths.