23 Nov 2020
Egypt's military production minister, S. Korean ambassador discuss boosting industrial cooperation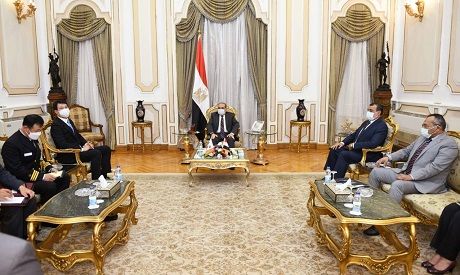 Egypt's military production minister has discussed with South Korea's ambassador to Cairo means to boost cooperation and create more industrial partnerships between the ministry's companies and South Korean firms, according to a statement by the military production ministry on Monday.
inister Mohamed Ahmed Morsy and Ambassador Hong Jin-Wook discussed utilising Korean technologies to manufacture high quality surveillance cameras in Egypt at competitive prices.
This step aims to turn Egypt into an exporter of these products to other Arab and African countries, while taking advantage of the current laws encouraging investments in Egypt, as well as trade deals between Egypt and other nations.
Media advisor of the Military Production Ministry Mohamed Bakr affirmed the desire of the two sides to establish further partnerships in various industrial fields, in light of Egypt's keenness to attract foreign investments and break into new industries, such as manufacturing electric cars.
Morsy also invited Korean companies to attend Egypt's defence expo EDEX in 2021. The expo, which was last held in 2018, showcases the latest military and security technology equipment and systems.
The meeting also discussed cooperation already existing between both countries in the military and other fields, including establishing and managing waste recycling plants.
The ministry and the Korean company JST signed a contract with the aim of manufacturing equipment for waste recycling lines in Egypt in accordance with international standards to protect the environment against pollution.
Ambassador Jin-Wook encouraged new partnerships between companies of the two countries in various industrial fields and scientific research to achieve comprehensive economic development.
He also hailed the Egyptian economy as one of the world's fastest growing economies, adding that during the coming period Egypt will become an important economic partner to South Korea.