28 May 2021
Egypt's Military Production Ministry, South Korean DAPA discuss industrial cooperation | Ahram Online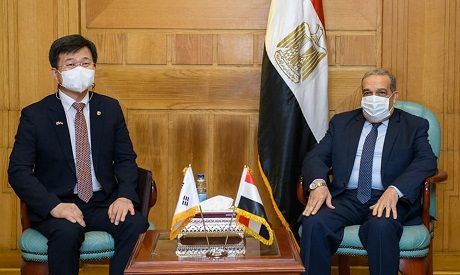 Egypt's Minister of State for Military Production Mohamed Ahmed Morsy held talks in Cairo with Kang Eun-ho, Chief of the South Korean government's Defence Acquisition Program Administration (DAPA) on Friday morning to discuss cooperation in various industrial fields.

During their meeting, Morsy discussed with Eun-ho and his accompanying delegation possible cooperation between the ministry and the South Korean companies specialised in the military and civilian industrial fields, a statement by the ministry read.
Morsy invited the South Korean companies to also participate in the second edition of Egypt's Defence Expo - EDEX 2021, which is set to start in November.
EDEX is the tri-service defence exhibition that is fully supported by the Egyptian Armed Forces. It enables exhibitors to showcase their latest military ground, naval and aerial technology, equipment and systems.
The expo will take place this year 29 November – 2 December.
"Minister Morsy explained that this meeting stems from the two sides' belief in the importance of enhancing strategic partnership in various fields," the statement read.
Boosting this partnership will be of "mutual benefit to both parties in light of the convergence in views of the political leaderships in the two countries," the statement read, noting that the two countries' bilateral ties are witnessing progress.
The meeting, taking place at the ministry's headquarters, was also attended by South Korean Ambassador to Egypt Hong Jin-wook and other officials from the ministry.