20 Jun 2022
Egypt's president receives Saudi crown prince at Cairo airport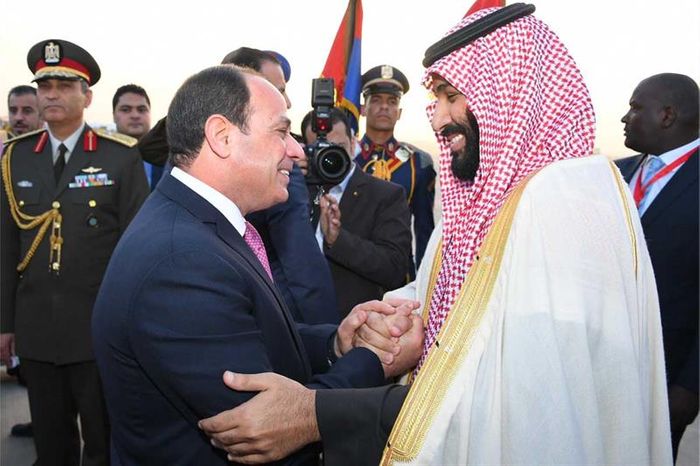 Egyptian President Abdel-Fattah El-Sisi received Saudi Arabia's Crown Prince Mohammed bin Salman at Cairo International Airport on Monday night, presidential spokesman Bassam Rady said in a statement.
El-Sisi and Bin Salman, who is on an official two-day visit to Egypt, will discuss bilateral relations and ways of enhancing them in various fields, as well as regional and international political issues of mutual concern, the statement said.
Sources told Reuters this week that Bin Salman's meeting with El-Sisi will discuss issues that include the regional impact of the war in Ukraine as well as preparations for US President Joe Biden's trip to Saudi Arabia next month.
Bin Salman's visit to Egypt is his first leg of a three-nation regional tour that includes Jordan and Turkey.
Over the past years, Egypt and Saudi have shared warm relations in the various political, economic, security and investment fields and have maintained continuous coordination on regional issues of concern.
During the current global crisis, Saudi Arabia has deposited $5 billion in the Central Bank of Egypt, and the kingdom is expected to invest further in the country.
Moreover, prior to the war, Saudi Arabia deposited $3 billion in the Central Bank of Egypt and extended the maturity of other deposits worth $2.3 billion that will now be paid in October 2026.
Regarding trade, Egypt's exports to Saudi Arabia jumped by 17.4 percent in 2021 y-o-y to reach about $1.99 billion, up from $1.69 billion in 2020, according to the Ministry of Trade and Industry.
The trade ministry's data also shows that Egypt was ranked the seventh largest market for Saudi merchandise exports in 2021 with a total value of $2.478 billion.
As per the Saudi General Authority for Statistics, trade exchange between the two countries grew significantly in 2021 to record $14.5 billion — an increase of 88 percent.