20 Jun 2020
El-Sisi: Egypt's army is one of the strongest in the region; wise army that protects, doesn't threaten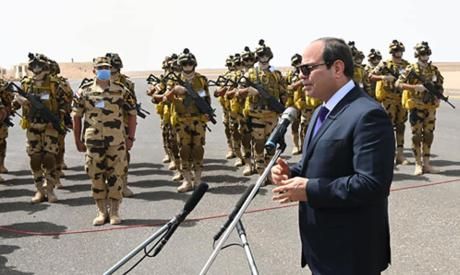 Egypt's President Abdel-Fattah El-Sisi said on Saturday that the Egyptian army is one of the strongest armies in the region. It is a wise army that protects and does not threaten, he added.
El-Sisi's statement came during his inspection tour of Egypt's Western Military Zone's personnel, a presidency statement said.
"This comes within our strategy and expresses our doctrine and principles that have not been changed," El-Sisi said during his tour.
"Our army is able to protect Egypt's national security," the president said, "inside and outside the borders of the homeland."
The Egyptian army is the ninth most powerful army in the world, according to the website Global Firepower Index's 2020 military strength ranking.
Presidential Spokesperson Bassam Rady said the tour took place in the presence of the Minister of Defence and General Commander of the Armed Forces Mohamed Zaki, the Chief of Staff Mohamed Farid, and leaders of the main branches of the Armed Forces.
"I'm glad to meet you today and be reassured by you of the efficiency, high technical and combat status of the Armed Forces," El-Sisi said, addressing the Western Military Zone's personnel.
In a video aired on state TV, the president instructed the Western Military Zone forces to be ready "to carry out any mission here within our borders or, if necessary, beyond them."
El-Sisi added that along "our borders with the sister country Libya, which is more than 1,200 kilometres long and has been secured for over seven years, many sacrifices are being made in many military activities, about which little is known, by the Air Forces, the Special Forces, and Border Guards."
El-Sisi is scheduled later in the day to open the Gargoub Naval Base, west of Marsa Matrouh, which is part of the northern fleet region of the Mediterranean Sea.
The Gargoub base is due to be in charge of securing the western part of the Egyptian northern coast on the Mediterranean, which includes the Dabaa nuclear station, the new city of Alamein, in addition to the economic zone that will be established.