FAST PATROL BOAT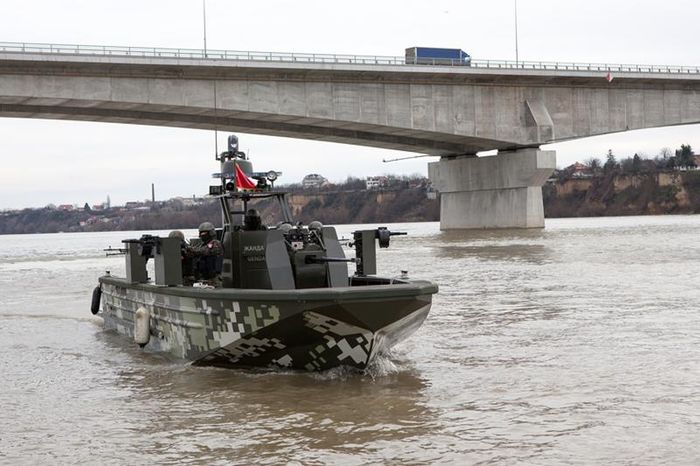 The Multirole Combat Boat is a highperformance craft designed for a wide range of police and internal security activities, including anti-terrorist, anti-guerilla and anti-piracy tasks, and for a number of military operations such as special forces` landing missions, transport of divers etc.
» MAIN CHARACTERISTICS
» Length Overall 11.98 m
» Length on Waterline 10.05 m
» Beam Maximum 3.34 m
» Beam on Waterline 3.00 m
» Static draft 0.7 m (sea version 1 m)
» Height from keel 1.6 m
» Displacement (dry weight/max) 6500/10500 Kg
» Fuel capacity 900 Liters
» Maximum speed 40-45 Knots
» Range – Top speed » (hours/nautical miles) 5 h / 200 nm » »
ENGINES AND PROPULSION
» • 2 x Cummins QSB 6.7 480 HP -- Common rail diesel
Weapons & Protection
» The boat has 5 weapon stations that can be used for mounting various caliber light machine guns, grenade or smoke pot launchers. Ammo capacity depends on the mounted weapon type and caliber.
» Add-on bullet-proof panels can be mounted on the inner sides of the hull for extra boat protection. Engine room sides will be clear of any equipment to provide easy mounting of bullet-proof panels. »
» AUTOMATIC 20 mm M55 GUN
» M71/08 weapon is fitted with an automatic 20 mm M55 gun fed with ammunition from easily replaceable drums with the capacity of 60 rounds.