20 May 2021
Greece, Cyprus and Egypt enhance defence cooperation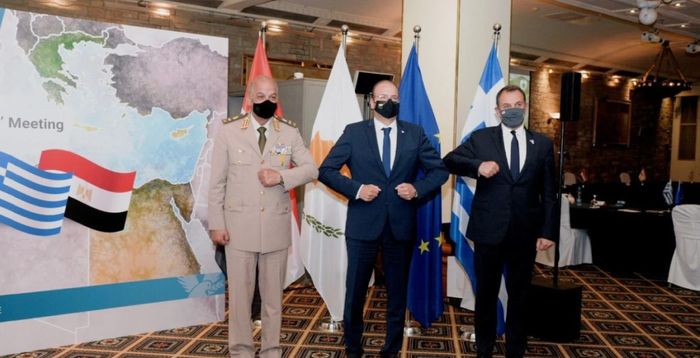 The Defence Ministers of Greece, Cyprus and Egypt met in Nicosia on Wednesday to discuss bolstering their military collaboration for peace, stability and prosperity in the Eastern Mediterranean region.
Cypriot Defence Minister Charalambos Petrides hosted his Greek and Egyptian counterparts, Nikos Panagiotopoulos and General Mohamed Zaki, in the Cypriot capital.
"We also agreed to further develop our now firmly established cooperation and thus sending clear and strong messages, as well as looking into the possibility of expanding it … through the inclusion of other countries with which we share the same values and objectives for the future of our wider region," Panagiotopoulos said.
On his part, Zaki said that during the meeting, they discussed better coordinating actions to combat terrorism, the illicit trafficking of weapons, smuggling, and illegal immigration.
"We condemn Turkey's illegal, provocative and unilateral actions in the maritime zones of Greece and Cyprus, which are a clear violation of International Law, of good neighborly relations, but we also condemn the undermining of regional stability and peace in the Eastern Mediterranean region.," Panagotopoulos added.
After reviewing all regional developments, the three countries condemned any "actions that violate the sovereign rights, territorial integrity and unity of any country".
It is necessary for all countries to respect the international law rules and the UN Charter, including not using military force against civilians, non-interference in the internal affairs of other countries, and the sovereignty of other countries, the UN Convention on the Law of the Sea (UNCLOS) and the other relevant agreements, they said.
The ministers agreed to hold the next trilateral defence ministers' meeting in Egypt in 2022.