14 Feb 2023
Egypt keen to acquire 20 Tejas in a deal that would also involve setting up an MRO facility there to aid the local defence ecosystem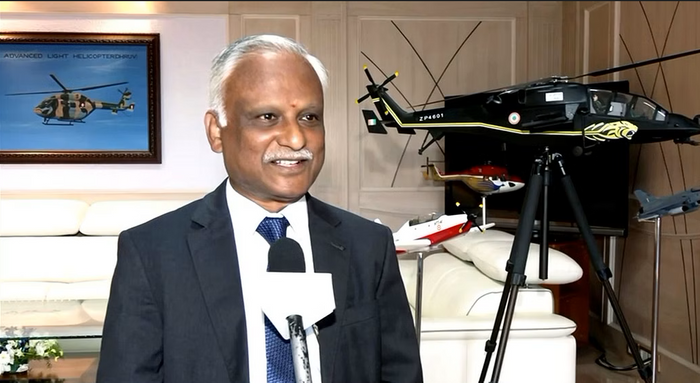 Argentina is looking to acquire 15 Tejas Mk-1A fighters, HAL chairman says on sidelines of Aero India, adding that first of 83 IAF ordered last year will be delivered in February 2024.
Bengaluru: India is in advanced talks with both Argentina and Egypt for the sale of at least 35 Tejas Mk-1A indigenous fighter aircraft, besides the sale of six Advanced Light Helicopters to the Philippines. The deal with Egypt will also include setting up a Maintenance, Repair and Overhaul (MRO) facility there.
Malaysia, which is looking to purchase 36 light combat aircraft (LCA), is also considering Tejas but the South Korean FA-50 manufactured by Korean Aerospace Industries seems to have an edge.
"We have good leads for the LCA. In Malaysia, we are one of the shortlisted ones. We were hopeful because there was a slight setback. We have not been told anything yet but we are hearing that Koreans are likely to get the order. Notwithstanding that, we are still trying," C.B. Ananthakrishnan, acting chairman of the Hindustan Aeronautics Limited (HAL) said here on the sidelines of the ongoing biennial aviation exhibition Aero India.
Besides the Tejas and the FA-50, other LCAs in the fray include the Sino-Pakistani JF-17, M-346 from Italy's Leonardo, and the Russian Yak-130. The Tejas was the frontrunner since it comes with the most advanced features among the lot, said sources in the defence establishment.
Giving details of the other export deals, Anathakrishnan said Argentina has shown keen interest in the Tejas and its pilots even travelled to India to test the aircraft. Incidentally, Brigadier Xavier Isaac — chief of the Argentine Air Force – is attending Aero India and holding talks with top Indian Air Force (IAF) officers and HAL officials.
The HAL chairman said Argentina is looking to acquire at least 15 aircraft.
Egypt, on the other hand, is keen to acquire 20 Tejas in a deal that would also involve setting up an MRO facility there to aid the local defence ecosystem.
Meanwhile, Ananthakrishnan said the HAL is also in talks with the Philippines for the sale of six indigenous Advanced Light Helicopters. The Philippines has already signed a contract with India for the BrahMos supersonic cruise missiles.
Asked when the IAF will start getting the 83 LCA Mk-1A – a contract for which was signed during previous Aero India in 2021 — the HAL chief stated that the first aircraft will be delivered in February 2024 in line with the terms of the contract. The contract, he said, mentions 16 aircraft per year and the HAL is trying to deliver faster than that to ensure that it can execute additional possible orders for the same and for the Tejas Mk2.