02 Nov 2022
Jordanian crown prince hails Egypt's pivotal role in serving Arab causes, enhancing Arab solidarity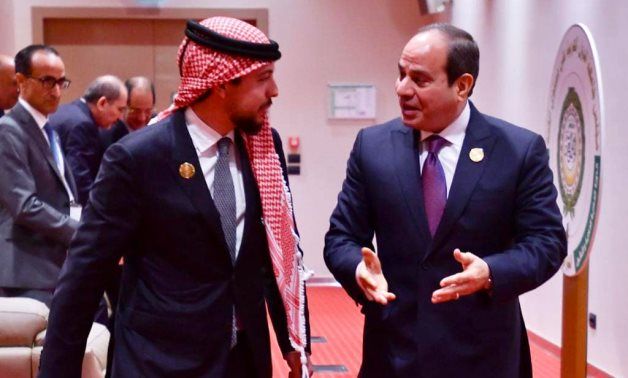 CAIRO – 2 November 2022: Jordanian Crown Prince Al-Hussein bin Abdullah praised on Wednesday Egypt's pivotal role in serving the Arab causes and efforts to enhance Arab solidarity.
The crown prince made the remarks in a meeting with Egyptian President Abdel Fattah El-Sisi on the sidelines of the 31st Arab League Summit in Algeria.
During the meeting, President Sisi affirmed strength of Egyptian-Jordanian relations, calling for continuing coordination with Jordan in light of the huge challenges facing the region.
The crown prince has welcomed the existing level of coordination between Egypt and Jordan to address various challenges in the region, which threaten the Arab peoples' security and stability.
Sisi delivered a speech on Wednesday at the Arab League summit, during which he echoed the hopes of the Arab people for a united bloc that can face political and economic challenges.
The Arab League Summit is an opportunity to summon Arab nationalism and the history of cooperation amid consecutive regional and global challenges, Sisi said during his speech.
Arab nations need to adopt an approach that both entrenches the concept of Arab nationalism and the concept of a national state of strong institutions, he continued.
Sisi elaborated that a national state is one that respects citizenship, human rights, and tolerance. Meanwhile, terrorist organizations and armed militias must be eliminated and any attempts to give them power or use them to give a foreign country power inside the Arab world must be prevented.
At the same time, uniting Arab ranks would guarantee sound relations with regional countries, and an Arab integration of various capabilities would establish a strong wall in the face of regional and international crises, including the crises of food and energy, Sisi said.
Such integration would also protect Arabs from international polarization, which has impacted the outlook on Arab crises and is reminiscent of a historic era in which the entire world suffered, Sisi emphasized. Source