03 Apr 2023
Military Attachés in Egypt Tour Airborne and Rangers' Headquarters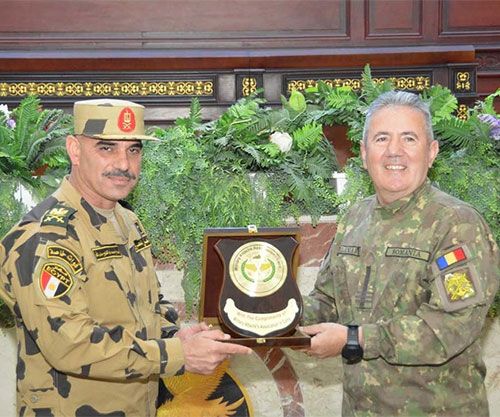 The Egyptian Armed Forces organized a visit by a number of Arab and foreign members of the Military Attachés accredited to their embassies to the Airborne and Rangers' headquarters.
This comes as a continuation of the series of visits organized by the Armed Forces for the accredited Military Attachés to the Arab Republic of Egypt in order to enhance and strengthen the prospects and bonds of military cooperation with brotherly and friendly countries, the Egyptian Ministry of Defense said in a statement.
First, the Airborne headquarter received a delegation of the Military Attachés members. The visit began by viewing a documentary film about the emergence and development of the Airborne. Afterwards the delegation watched a number of freefall and delta flying activities, passed through the air assault training field, visited the historical hall and viewed the significant records it contains of the most important championships of paratroopers across the various battles, and they also visited the wind tunnel simulator, which is a vital training activity for paratroopers.
The delegation members also visited the Rangers headquarter, where they watched a documentary film about its emergence, development, and the sacrifices of its heroes throughout history, as well as passing through the Rangers School, where the rangers displayed a number of training activities that are implemented on a daily basis, they also carried out marksmanship in different shooting positions. The delegation inspected an exhibition of advanced weapons and equipment used within the Rangers headquarters, and witnessed the implementation of a number of practical drills that reflect the extent of high level of professionalism in carrying out all the assigned tasks.
At the conclusion of the two visits, the delegation members expressed their appreciation for those visits, which aimed to increase knowledge and awareness about the capabilities of the Egyptian Armed Forces to support the pillars of national security, praising the Special Forces and their capabilities that are commensurate with the nature of the assigned tasks to them.