15 May 2018
Russia and Egypt strengthen military relations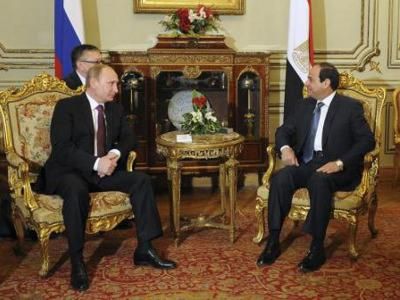 Sergei Shoigu, Russia's Acting Defence Minister, and Sedki Sobhy, the Defence Minister of Egypt, have held talks and pledged to strengthen military cooperation between the two countries.
Source
"We see stable progress of expanding cooperation in military sphere. We salute Egypt's aspiration to equip its armed forces with modern armament and military hardware made in Russia", Shoigu said on 14 May.
At the same time he pointed out that Russia is interested in Cairo's leading position in strengthening regional security and stability, the Russian Ministry of Defence said.
"We see evident progress in the bilateral relations", Shoigu said.
He also noted that Russia highly appreciates the Egyptian government's concern for development of bilateral relations in all spheres, including the military shpere.
Shoigu considered the regular meeting in "two plus two" format between defence ministers to be a key element of cooperation. During such event, Russian and Egyptian attaches have a unique opportunity to make sure they are on the same page on topical issues regarding bilateral cooperation, the Russian defence ministry said.
"We shall develop all that has been achieved, and we hope for greater achievements in all areas of military cooperation, including joint exercises," Sobhi said, noting that these issues will be discussed in the course of the fifth meeting of the Russian-Egyptian joint commission for military and technical cooperation, which is to be held in Moscow in August.
Sobhi emphasized the fact that the complicated situation in the region, characterized, in particular, by high terrorist activity, has a significant impact on the development of the Armed Forces of Egypt.