20 Apr 2021
Second Italian-Built FREMM Delivered To Egypt Reaches Alexandria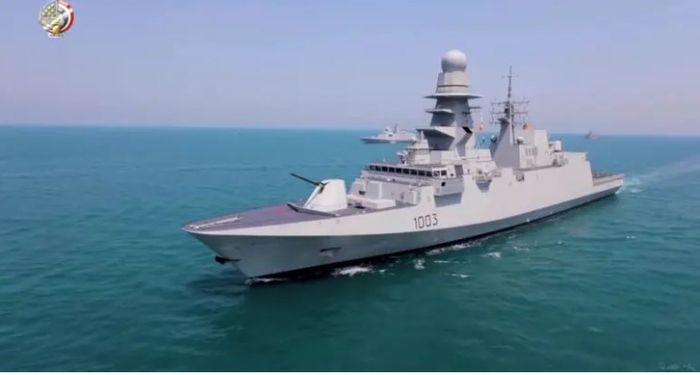 The second Italian-built Bergamini-class FREMM frigate procured by Egypt arrived on April 15 at the Alexandria naval base, where she officially joined the Egyptian Navy.
Bernees (FFG 1003) is the second and final FREMM frigate transferred from Italy to Egypt.
Formerly known as Emilio Bianchi, the frigate was renamed Bernees (FFG 1003). She is the second FREMM frigate to join the Egyptian naval forces after the Al Galala (FFG 1002) which joined the fleet in December 2020.
Both vessels are considered as "a remarkable technological addition to the Egyptian Navy and shall safeguard the borders, shipping routes, and the vast natural resources in both the Mediterranean and the Red Seas, along with supporting the land forces in their offensive or defensive operations," the Egyptian Ministry of Defense said in a statement.
The crew was prepared and qualified through a simultaneous training program implemented in two phases in Egypt and Italy.
For the occasion, the commander of the Egyptian Navy, Lieutenant General Ahmed Khaled, delivered a speech in which he conveyed the greetings of the highest authorities to the frigate's crew for the distinguished level they reached during the preparation period.
Lieutenant General Ahmed Khaled added that the General Command of the Armed Forces is keen to implement a comprehensive strategy to develop and modernize the Egyptian naval fleet.
"The new frigate shall amplify the Egyptian deterrence, enforce the security and stability in the region, protect the peace, safeguard the maritime navigational routes in light of the hostilities and challenges the region is facing," the Chief of the Egyptian Navy added.
The sea trials of Bernees started on (or shortly before) 15 February off the Fincantieri shipyard located in Muggiano. This marked the first time the vessel went to sea with Egyptian markings.
As was the case for the first frigate, some electronic countermeasures systems (EW suite's jammers, NETTUNO-4100 RECM system and Thales Altesse CESM equipment) and some communication aerials have been disembarked. Apart from that, no major change is visible compared to the original FREMM design.
For the record, the contract for the transfer of the two FREMM frigates to Egypt, reportedly quoted at circa €1.2 billion, without further information on the inclusion of the training and support package, is expected to include options for two additional new-built frigates, as the programme regarded four platforms, according to industrial sources.
A separate deal or part of the same contractual agreement is the supply of smaller patrol vessel to be built locally under a technological transfer package. The naval package is reported as part of a wider deal to be signed with Italian industries and including Eurofighter Typhoon combat fighters and Leonardo M-346 dual-role attack/advanced trainers, space platform and weapon systems.